USA Lacrosse Fall Classic


Tickets on Sale Now
The greatest rivalry in lacrosse. The greatest players in the world. One weekend. One location. 
Join us at USA Lacrosse headquarters in Sparks, Md. from Oct. 13-15 for an unforgettable weekend of lacrosse — the 2023 USA Lacrosse Fall Classic. The event will feature the recently crowned World Champion U.S. Men's National Team and U.S. Women's U20 Training Team taking on rival Canada on Friday night.
But the action doesn't stop there – with the reigning NCAA Champion Northwestern (women) and Big Ten power Penn State (men) facing off against the U.S. and Canadian national teams on Saturday.
In addition, the USA Select boys' and girls' U16 and U18 teams will compete with Ontario and the Haudenosaunee for the 2023 Brogden Cup. Games are scheduled throughout the weekend at USA Lacrosse headquarters and Gilman School in Baltimore.
USA Lacrosse members can pre-purchase tickets for the Fall Classic at a discounted rate of $15 daily or a weekend package for $25. Members gain exclusive access to VIP ticket packages which includes food & beverage hospitality, dedicated viewing area and more now through September 5. Limited quantities available, so secure yours today.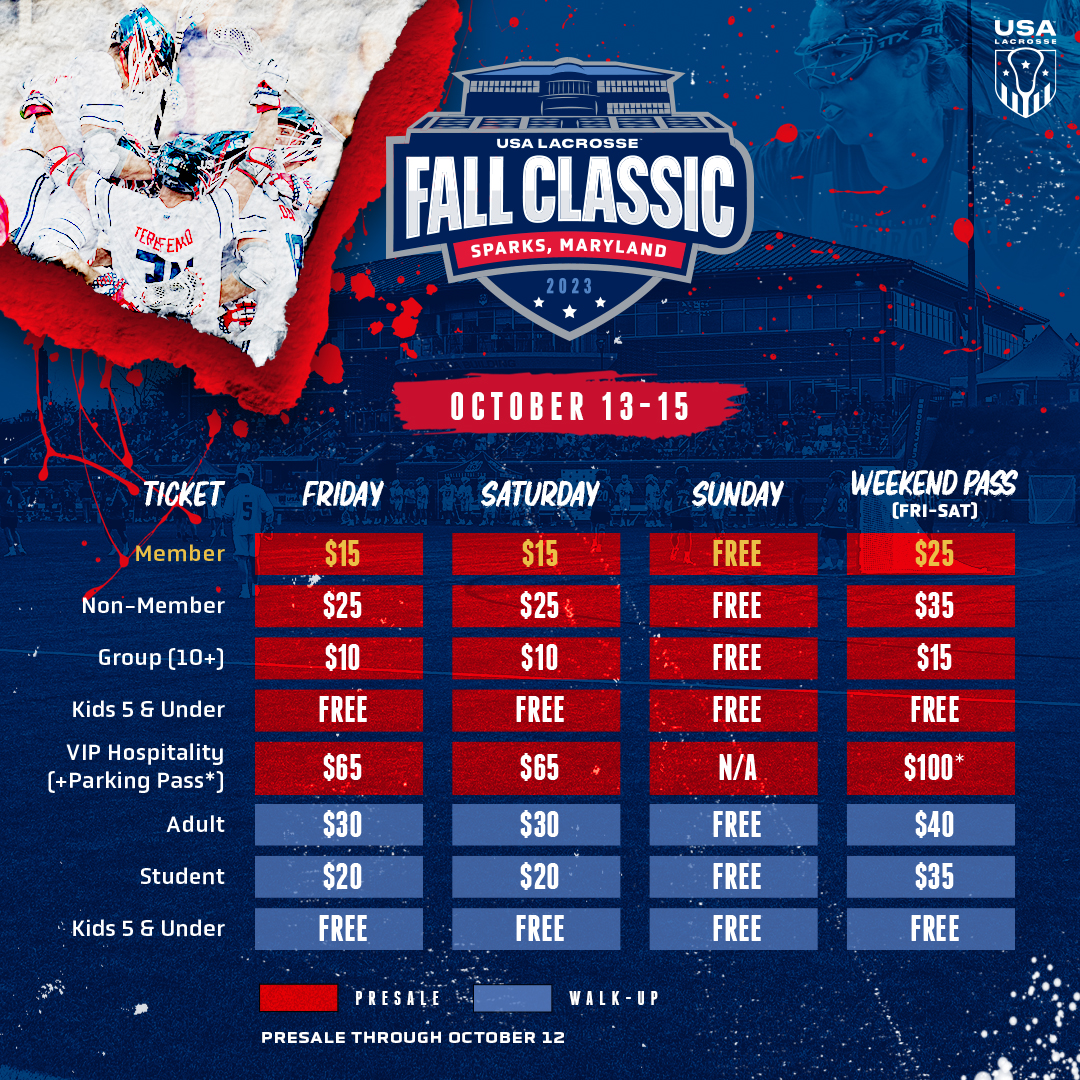 Information

Location
USA Lacrosse HQ - Tierney Field
USA Lacrosse HQ - Tierney Field
USA U20 vs. Canada U20 (Women)
Location
USA Lacrosse HQ - Tierney Field
USA Lacrosse HQ - Tierney Field
Location
USA Lacrosse HQ - Tierney Field
USA Lacrosse HQ - Tierney Field
Location
Gilman School
Gilman School
Canada U20 vs. Northwestern (Women)
Location
USA Lacrosse HQ - Tierney Field
USA Lacrosse HQ - Tierney Field
USA U20 vs. Northwestern (Women)
Location
USA Lacrosse HQ - Tierney Field
USA Lacrosse HQ - Tierney Field
Location
USA Lacrosse HQ - Tierney Field
USA Lacrosse HQ - Tierney Field
Canada vs. Penn State (Men)
Location
USA Lacrosse HQ - Tierney Field
USA Lacrosse HQ - Tierney Field
Location
USA Lacrosse HQ - Tierney Field
USA Lacrosse HQ - Tierney Field
*Schedule is subject to change
Fall Classic Event Sponsors