We're proud to serve as a national leader in research support to help eliminate the risk of serious injuries like commotio cordis.
The best way to reduce the risk of commotio cordis in lacrosse is with the use of chest protection equipment that meets NOCSAE performance standard ND200.
what is Commotio cordis?
Commotio cordis is a Latin term, meaning "agitation of the heart." It's a rare, but serious, medical condition that is caused by low-impact trauma to the chest, including by a projectile such as a lacrosse ball or baseball. This impact can cause the heart to change its normal rhythm and lead to sudden cardiac arrest. Immediate CPR and defibrillation is necessary to restore the heart rhythm.
developing better protection
Beginning in 2021, USA Lacrosse boys' and girls' youth rules mandate that all goalie chest protectors must meet the new NOCSAE standard. It's also mandatory in the NFHS boys' and girls' high school rules, and the NCAA men's and women's rules. Beginning in 2022, USA Lacrosse boys' field players, NFHS boys' field players, and NCAA men's field players must also wear chest protection that meets the NOCSAE ND200 standard.
the importance of AEDs and chest protection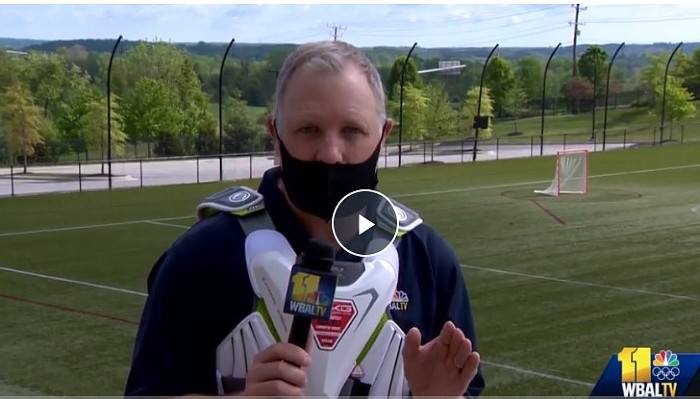 Additional Resources

Don't Forget the AED
The most effective treatment for sudden cardiac arrest and, indeed, the only effective response to commotio cordis, is the timely delivery of a life-saving shock or defibrillation. Automated External Defibrillators (AED) are portable and easy-to-use devices that deliver potentially life-saving defibrillation therapy quickly and effectively. USA Lacrosse strongly encourages an on-site AED for all games and practices. The combination of immediate CPR and defibrillation with an AED can more than double a cardiac arrest victim's chance of survival.
CPR and First Aid Training Kit
USA Lacrosse partnered with the American Heart Association to meet the needs of local lacrosse teams and leagues with the development of an easy-to-use CPR & First Aid in Youth Sports Training Kit. This portable training kit is designed to facilitate training for youth coaches to ensure they know the lifesaving skills of CPR, how to use an AED, and how to help during sports related emergencies.
Buy a Kit Today
Chest Protection FAQs
Effective January 1, 2021, boys' and girls' goalkeepers must wear body padding that meets the NOCSAE performance standard for lacrosse, ND200, and as of January 1, 2022, boys' field players must also have padding that meet the same standard.
Get the FAQs
The Story Behind a Positive Commotio Cordis Outcome
Medical personnel revived Loyola Blakefield (Md.) high school lacrosse player Peter Laake after a commotio cordis episode, highlighting the need for AEDs on site and the importance of the new chest protector standard that USA Lacrosse played a major role in helping to develop.
Read