Providing local organizations with free lacrosse equipment and support so they can provide affordable and accessible youth lacrosse activities to their participants.
A child's first lacrosse stick not only serves as a means to play the sport, but as a symbol of life-enhancing values such as confidence, teamwork, sportsmanship, and leadership that can be developed through lacrosse. Those are the hallmarks of the First Stick Program, which piloted in 2010 through the generous assistance of individual donors. We want to inspire kids to play hard and dream big.
"We would never have made it if it wasn't for the benefits, equipment, and training that USA Lacrosse provided us through the First Stick Program."
First stick options
Starter Kit Equipment Grant
Youth Equipment Grant
High School Equipment Grant
Pad Upgrade Grant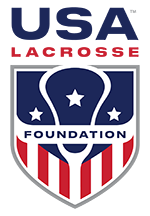 More Information

Starter Kit Grant
The Starter Kit grant includes up to 30 lacrosse sticks, two dozen soft-practice balls, and two 3'x3' goals to help organizations introduce the sport to new participants. Starter Kit grants also include the option to request complimentary USA Lacrosse memberships for up to 2 adult coaches and 30 new youth players.
Youth and High School Equipment Grant
Youth and High School grants include lacrosse equipment for up to 20 field players and 1 goalie. Organizations that receive a team grants are required to be participants in the USA Lacrosse 100% Membership Program. To help organizations meet the 100% membership requirement, Youth and High School grants include the option to request complimentary USA Lacrosse memberships for up to 2 adult coaches and 20 new youth or high school players.
Pad Upgrade Grant
Pad Upgrade grants include up to 20 shoulder pads to help players meet the NOCSAE pad requirement and reduce the barrier to play due to additional equipment costs. Organizations should only request pad upgrades for players who would otherwise be unable to play due to the financial strain of purchasing replacement shoulder pads. Organizations and their players who are able to purchase pads without the support of a grant are not eligible to receive Pad Upgrade grant equipment.
How to Apply
All perspective First Stick applicants must submit a Proposal Form in order to be eligible to receive a grant. Please follow the link below to learn more about the grant process and upcoming application availability. Priority is given to 14U programs, organizations seeking to balance participation equally between boys and girls, and organizations with a focus on increasing diversity and inclusion within their programs.
Start the Process