ROUND ROCK, Texas – Saturday afternoon, just minutes after Boston College Club defeated Georgia, 12-7, to claim its first WCLA Division I title, four of BC's players found themselves together for one of the plethora of celebratory photos that were being taken by parents and supporters.
Standing on the Field 1 turf at Round Rock's Multipurpose Complex, there was an odd feeling of familiarity between the current moment and one that occurred last spring.
Last May, Charlotte North and the Boston College Eagles captured the program's first NCAA Division I national championship and the four players on the turf in Round Rock were also celebrating on the field that day in Towson, Md. They were varsity Eagles last spring but found a new home in 2022 as BC club players.
The WCLA championship game crowd may have been smaller this year and the ESPN cameras were nowhere to be seen, but the four players – Sara O'Brien, Mary McWright, Madison Cooney, and Grace Arthur - were loving every moment of Saturday's more intimate celebration.
"This feels like so much more of a family environment," said Arthur, who scored two goals in the victory and was named the tournament's most outstanding midfielder. "I loved that team last year and I hope they win another NCAA championship, but this team here is so amazing."
The BC run started in February in California with three impressive wins at UCLA's tournament and never stopped. Another four wins over ranked foes at Colorado's Mile High Invitational in March vaulted the Eagles to number one in the WCLA rankings, a position they carried with them to Round Rock.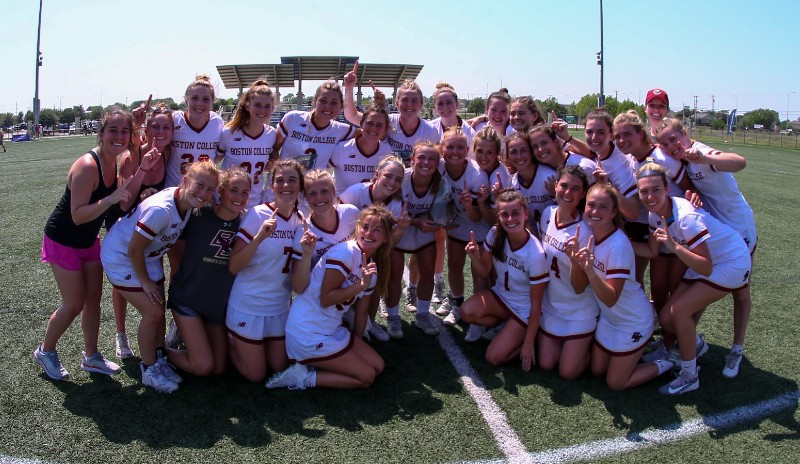 "We really got our momentum rolling in California, but the win over Michigan in Boulder was when we started thinking seriously about the national championship," said team captain Anne Kelly.
The Eagles used a familiar blueprint in Saturday's championship. Throughout the tournament, they have established a lead through the first half, then steadily pulled away in the second half of each game.
"We have become a second and fourth quarter team," Kelly said.
Leading 5-3 over Georgia at halftime, BC used a 6-1 run over a 10-minute span in the second half to break away for their first WCLA title. O'Brien scored four goals, freshman Megan Chase added three goals and two assists, and junior Katie Duttenhofer added three goals to lead the Eagles, who completed an undefeated season with a 16-0 record.

"There's so much energy on this team and it's unbelievable how much we've grown as a team this year," said Duttenhofer, who was named as the tournament's most outstanding attacker.
McWright and senior Grace Cash, the tournament's most outstanding defender, helped lock down the defense, and freshman goalie Finley Collins recorded three of her eight saves in the fourth quarter to keep Georgia at bay.
Georgia, which finished the year with a 21-1 record, was led by sophomores Savannah Sabol and Ryanne King, who each registered two goals. The Bulldogs' defense kept the game close despite losing its All-America goalie Delaney Ott to an injury late in the second quarter. Madalyn Kreher recorded three saves in relief.
"It was a bummer to see her go down, but their second goalie did a good job for them," said BC's Duttenhofer.
"It's such a long season, and we had to dig deep and empty the tank, but this is a great way to finish the year," Arthur said. "It's the best."