The evidence is there – if you host it, they will come.
That was one of the main takeaways from USA Lacrosse's National Celebrate Lacrosse Week initiative, aimed at uniting the lacrosse community from coast-to-coast through virtual and in-person events.
A key component of the week-long celebration, November 5-13, was a series of free "Pick Up and Play" clinics that provided youth players, ages 6-14, with an opportunity to try the sport for the first time.
Hosted in partnership with local lacrosse organizations, there were 68 clinics nationwide, almost double the number from the initial campaign in 2021. The two-hour clinics were designed for players with no previous lacrosse experience and attracted more than 3,200 participants nationwide.
"We got a lot of first-timers, so that was very successful," said Walt Eccles, a coach with the well-established Onondaga Valley Lacrosse Association, known throughout the Syracuse region as simply Valley Lacrosse. "It was chilly but sunny. That's a perfect day for Upstate lacrosse."
The Pick Up and Play event was just the latest outreach opportunity coordinated by Eccles and Valley Lacrosse leadership as they try to reinvigorate the sport among Syracuse's city residents. With a school district that has nearly 20,000 students (K-12), Eccles says that there is just one boys' and one girls' high school team.
"The numbers aren't where we want them to be, and there are a lot of different factors that have changed things through the years," he said. "The city's lacrosse numbers used to be much more vibrant."
To reach those students, Valley Lacrosse promoted last week's Pick Up and Play clinic throughout the school system, utilizing flyers and emails to spread the word about the free event. They utilized a similar strategy for a successful USA Lacrosse Sankofa clinic last spring. Initial returns have been favorable.
"Everyone that talked to me after the clinic said that it was great," Eccles said. "We'll do a follow-up with the kids that participated to get them connected to a team or another clinic in the spring. We want them to feel like this is a fun thing to be doing."
Rich Thomson from Pulaski Lacrosse, a third-year program in Wisconsin located on the outskirts of Green Bay, said it was an easy decision to apply for a local clinic.
"This is such a great opportunity to introduce the game to more kids and hopefully get them interested in joining the league," Thomson said. "Every kid at our clinic left with a cookie (chocolate chip or peanut butter) and a registration form."
Pulaski's program initially launched with just two teams – a U12 and U14 – and within three years has now added both high school boys' and girls' teams, as well as a U10 squad. Thomson believes the recent clinic will bring more players next season.
"So many of the kids told us that they had a great time," Thomson said. "I believe that if you get a stick in their hands, it's just a matter of time before they will come back and bring some friends with them."

The collective response that Doug Madsen is receiving following the clinic hosted by STG Lacrosse in Southern Utah also illustrates great enthusiasm from participants. As president of STG, Madsen has been bombarded with texts and emails from parents asking for more info about joining the league.
"We're trying to stay ahead of the curve," said Madsen, who was one of the league's founders in 2020.
STG started with about 30 players in its first year, grew to 80 players this past spring, and is prepared for 180-200 in 2023. The trajectory has been overwhelming.
"Lacrosse is new to our community, but we are a growing area with people coming to Southern Utah from all over, so there's lots of interest," Madsen said. "We're drawing interest from families from as far as 30 or 40 miles away."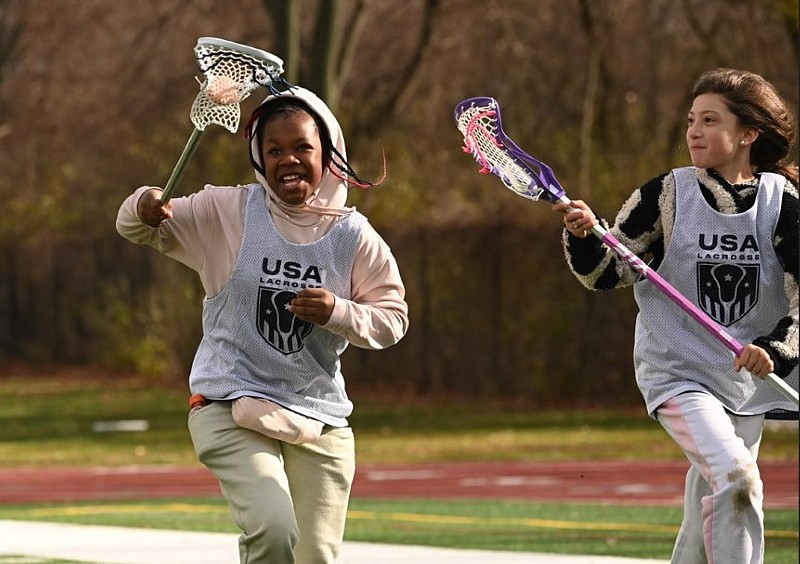 Events like the Pick Up and Play Clinic provide the exposure that helps fuel the growth.
"The turnout we had was amazing. We were sold out," Madsen said. "We're now planning on doing another introductory clinic in December, and potentially, continuing with the clinics every couple of weeks until spring."
Madsen relied on coaches and players from the three local high school club teams to help staff last week's clinic, and is attracting new league volunteers almost everywhere he goes. His latest coaching recruit was cultivated at a local sandwich shop, where one of the employees who was a former player noticed his STG cap and wanted to know how to get involved.
"We're doing whatever we can to keep growing the game," Madsen said. "The clinics give us an opportunity to introduce the game. We're going to get lacrosse established here."