Last week, USA Lacrosse hosted its first National Celebrate Lacrosse Week initiative, seeking to unite the lacrosse community from coast-to-coast through virtual and in-person events designed to showcase this special game.
A key component of the week-long celebration was a series of free "Pick Up and Play" clinics that provided youth players with an opportunity to try the sport for the first time. Hosted in partnership with local lacrosse organizations, there were 39 clinics nationwide that provided kids with a chance to experience the game.
"It's just an awesome feeling when you see a kid pick up a stick for the first time," said Rich Maconochie, director of the Piedmont Community Lacrosse Association, which hosted a clinic in Kernersville, N.C. "We tell them there is magic in the stick, and then the kids really get into it."
The Pick Up and Play clinic fit nicely within the PCLA's ongoing mission to provide opportunities for first-time players in central North Carolina. Maconochie notes that it's all part of an effort by those who have loved the game for many years to share their lacrosse passion.
"We're just trying to pass along the joy of playing this sport," he said. "I saw smiles all over the place."
The story was much the same 3,000 miles away, where the Washington Schoolgirls Lacrosse Association (WSLA) hosted two separate clinics. In both cases, the WSLA targeted some underserved communities.
"We hosted the first clinic in Tacoma and had multiple people from multiple clubs coming together to share their resources," said Erin Massena, executive director of the WSLA. "The kids were so excited to get the sticks and even the pinnies. It was a lot of fun to see."
For the second clinic, in south Seattle, the WSLA partnered with a local coaches of color group for a clinic targeted at a very diverse population. Those who attended noted that the grins were "ear-to-ear" despite a rainstorm that stayed present throughout the day.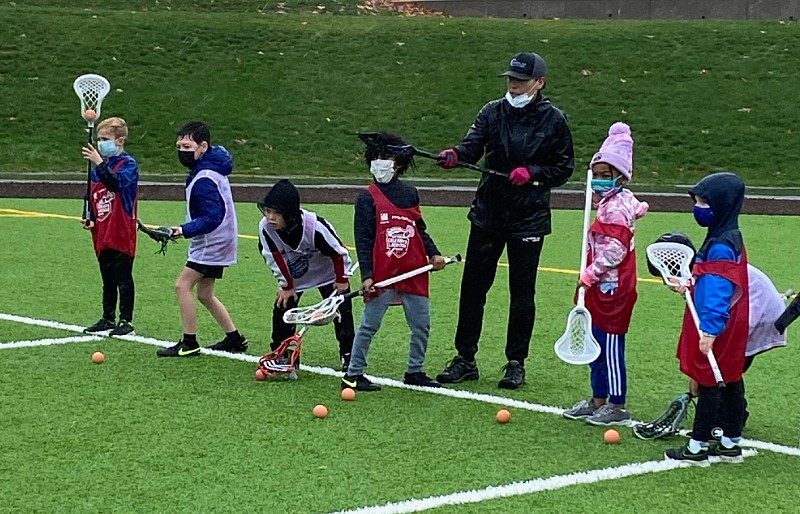 Pick Up and Play clinic, South Seattle

"The chance to get a stick in the hands of 60 kids at one time was amazing," said Dejon Hush, one of the clinicians and a founding member of the Northwest People of Color Coaching Collective (NWPCCC). "Yes, it was cold and wet, but nobody quit. The resiliency of those kids to try something new with the rain coming down was very cool. Their energy was infectious."
Hush helped launch the NWPCCC last year and explained that the Pick Up and Play clinic was a great match with one of the group's primary goals -- exposing more kids of diversity to lacrosse.
"This event was about just playing and enjoying lacrosse," Hush said. "This was a great fit for us."
With many of the young participants inquiring about repeat opportunities and a chance to play again, Massena has quickly tried to capture that momentum. She has already secured locations for additional clinics with the NWPCCC in the coming months.
"When people work together, things really do go amazingly well," Massena said. "These clinics were among my favorite things that we have done."
Collaboration also played an important role in the success of the clinic in Lorton, Va., where South County Lacrosse utilized local high school and college players to help provide instruction to the 90 kids who attended their event. Members of the NCAA Division I women's program at George Mason University were among the volunteer clinicians.
"We were really thrilled to get the contribution of the college players," said Amy Coffin, South County's lacrosse commissioner and clinic coordinator. "They showed up early, helped us get set up, did some great demonstrations, and gave a lot of individualized attention to the kids. They were really into it."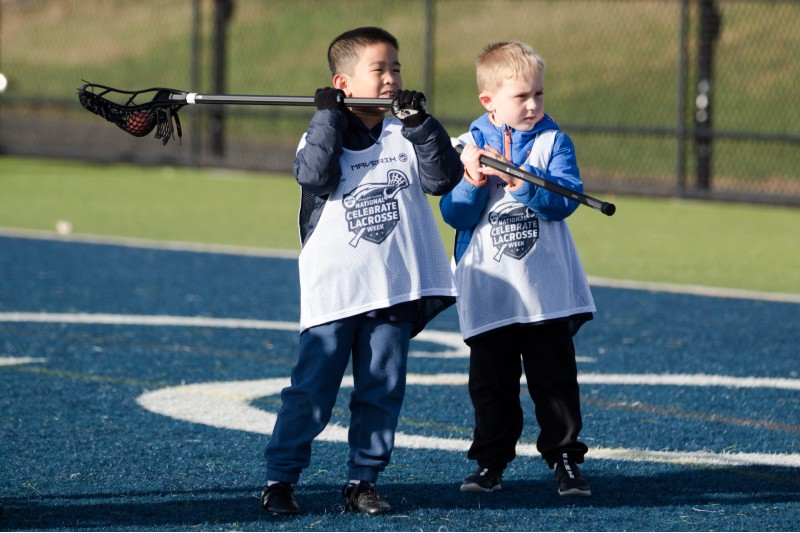 Pick Up and Play clinic, Lorton, Va.

USA Lacrosse's support in helping to introduce new players to lacrosse was greatly appreciated.
"I was excited that we were selected as a host for Pick Up and Play because exposing kids to different sports is a passion for me," said Coffin, a former collegiate player at Virginia Tech. "USA Lacrosse got us all the equipment that we needed. It was a win-win situation."