ROUND ROCK, Texas — Two-time defending national champion Loyola Maryland will try to capture its third straight WCLA Division II title on Saturday in the Division II championship game. But first, the No. 2 seeded Greyhounds will need to avoid being the fourth upset victim of the week for No. 13 seed Vermont in order to claim the trophy once again.
The Catamounts (9-3) finished in third place in the New England Women's Lacrosse League, but they have played like a top contender since arriving in Round Rock earlier this week.
On Wednesday, Vermont dominated No. 4 seed UC San Diego, and on Thursday, they dispatched No. 5 seed St. Thomas. But they saved their most exciting showing for Friday's semifinal, where they upset No. 1 seed Utah Valley, 10-9, in dramatic fashion to advance into Saturday's championship game.
Trailing by one, Vermont's Francie Ettori scored on an assist from Annika More with 3:22 remaining, tying the score at 9-9. That's when Catamount's goalie Anna Hadro took center stage.
Hadro's save on a point blank shot on Utah Valley's possession in the final minute triggered a transition goal at the other end by freshman Zoe Pfeiffer, putting Vermont ahead with 13 seconds left. Utah Valley's only hope was a clean win on the ensuing draw and a quick shot, which is exactly what they got.
Shea Munger won the draw to herself and raced down the field, alluding defenders as she moved inside the scoring arc. She advanced all the way to the goal circle for a clean shot to tie the game, only to see Hadro stuff the attempt. Upset was secured.
"I was just on a big adrenaline rush," said Hadro, who entered the game in the second half and finished with six saves. "I was ready to throw my body at it to keep it out of the cage. This is so much fun."
Hadro calls herself the "second half goalie" because she splits time with fellow freshman Erin Osinski in every game. Osinski registered four first half saves for Vermont.
"Our freshman have emerged so much since the start of the season," said club president and senior Julia Geiger.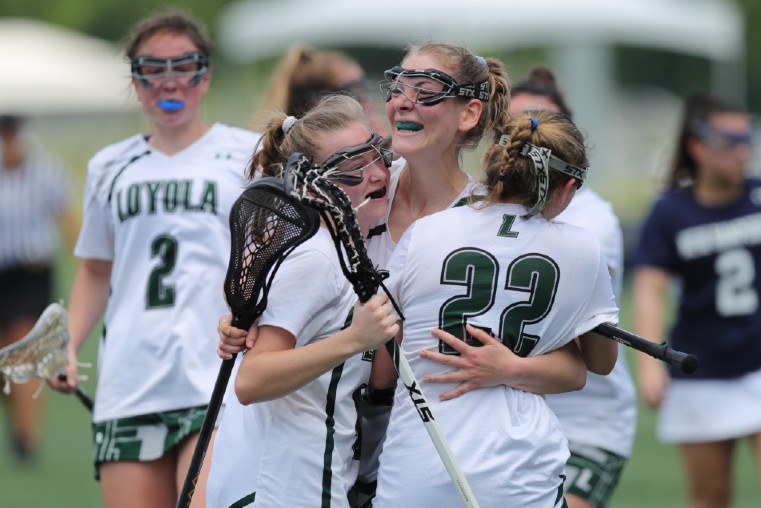 In the second game, Loyola advanced with a 12-10 victory over No. 6 seed New Hampshire, building a 7-5 halftime lead and maintaining the advantage throughout the final 30 minutes. Loyola, 12-1 overall, is making its fourth straight appearance in the D-II final, dating back to 2017 and including two years of Covid interruption.
"This is really a completely different team now," said senior Erin Haverty, one of just three seniors remaining from the 2019 title run. "But our goal since September has been to make it back to Texas."
Four goals apiece from juniors Caity Bush and Elle White carried the offense for the Hounds, who were able to answer every challenge from New Hampshire. The two juniors each scored their fourth of the game just 23 seconds apart in the fourth quarter to help Loyola build its biggest lead of the game at 11-7.

"We have lots of leaders on this team, so there's a lot of trust among us," said senior Annie Quinn.
Saturday's D-II championship game will start at 10 a.m. CST and is available for viewing via free streaming.
DJO, MedStar Health, and Gatorade serve as official event sponsors for the 2022 USA Lacrosse WCLA Championships.