BEL AIR, Md. — Unseasonably cool temperatures, morning rain, cloudy skies and afternoon wind didn't damper the enthusiasm on the opening day of the USA Lacrosse Women's National Tournament.
A tradition that dates to 1933, the event has historically brought the best of the women's game together and though things were different this year due to the COVID-19 pandemic, the spirit remains strong.
"The people that are involved in the game of lacrosse, the people that are involved with USA Lacrosse — it's just a wonderful tournament," said Beth Stone, who has attended the event since 1988 and annually coordinates teams of players from Western New York. "It's my favorite tournament of all of them."
This year's field includes more than 800 athletes representing 40 regional high school all-star teams. That's down from the usual field of over 60 teams as uncertain conditions and local regulations prevented some regions from conducting tryouts and sending teams this year.

The NCAA recruiting dead period also prevented Division I coaches from being onsite, but the athletes gained in-person exposure from Division II and III coaches and will have their game film from First Scout Productions shared to coaches of all levels to evaluate.
One of the unique things about the event, and a fact that college coaches consistently praise, is that players are not playing with their usual high school or club teams. Players go through a tryout process to represent their region.
"It's like a pick up and go," said Brett (Bathras) Packard, a former Johns Hopkins player coaching a team of players from Idaho, Montana and Wyoming. "You have to play with girls you've never played with before. You have to learn quickly and kind of pick up on their tendencies. Figure out which girls like to do what on offense and defense."
Packard, who played in the event as a high school player before her career at Hopkins, was thrilled to bring her team to the event. She moved to Idaho five years ago was determined to make lacrosse a part of her life in Idaho.
"It's piece of home," Packard said. "I wanted to have something I was used to."
She took a job coaching at Eagle High School and has had players from her school represent the state at the USA Lacrosse National Tournament in the past. In recent years, Idaho had a few spots allotted to the state on a combined team with Utah.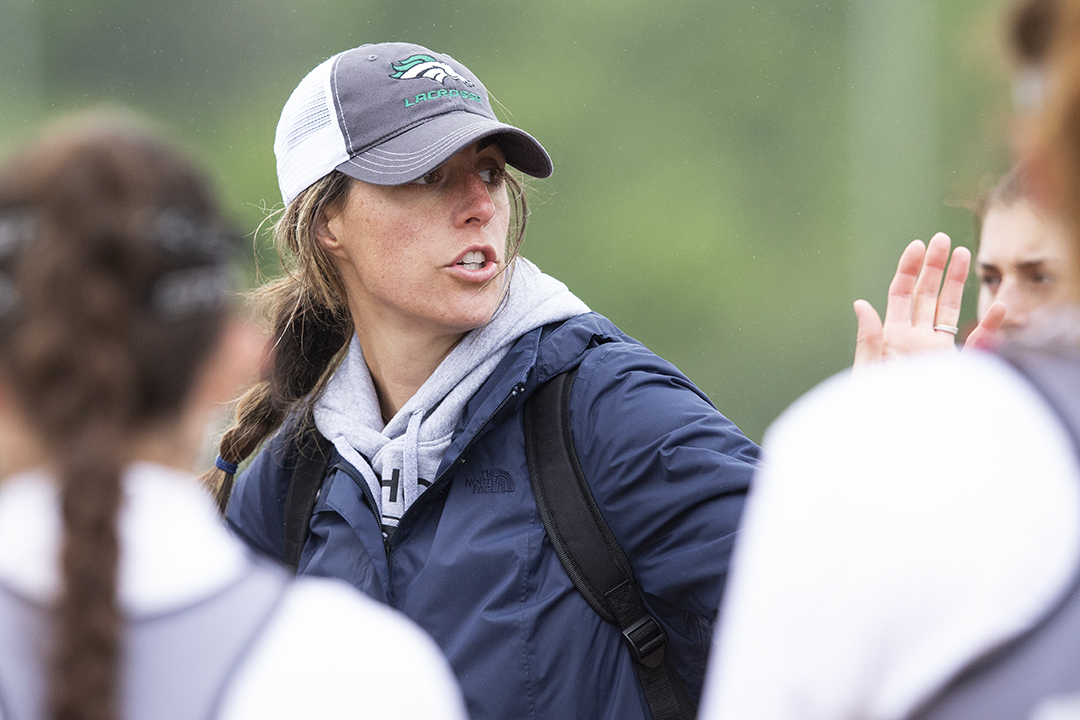 "With the number of girls coming out to tryouts every year, we decided why not try to make it a full team," Packard said. "We didn't think we were going to have enough from Idaho to make 20, so we invited some girls from Montana and Wyoming."
It's an invaluable experience for the players.
"You get to play against the best talent in the country," Packard said. "Against teams these girls would never see unless you get to college. I think it's great for girls for their IQ, regardless of where they're coming from — Idaho or Maryland — it really pushes you out of your comfort zone."
Saturday's schedule included a total of 60 games and the championship games are set for all five divisions.
In the Blue Division, Gulf Coast (Fla.) and South Carolina each went 3-0 in their respective pools to set up an undefeated championship game showdown. South Carolina allowed just a combined six goals in its three wins while Gulf Coast won three close games, including an 11-10 victory over Tennessee.
In the Green Division, Virginia showcased a prolific offense by scoring a combined 59 goals in its three wins. They'll meet Philly 4 in the championship game. Philly 4 went undefeated against a difficult slate of opponents, including a 7-6 win over Maryland Metro 4.
In the Orange Division, it will be a Beltway Battle as Maryland Metro 2 and DC Metro 1 each went 3-0 to win their pools. Maryland had a dominant effort, winning all of its game by at least 12 goals. DC was similarly impressive, winning its games by an average of 9.3 goals.
In the Red Division, Massachusetts/Rhode Island 1 and New Jersey North each went 2-1, but MA/RI won the pool by virtue of a 12-6 head-to-head win. MA/RI won the top flight at this event in 2019 and will meet Maryland Metro 1. Maryland won all three of its games, outlasting Central Pennsylvania 12-8 in its final game.
The Yellow Division will also feature a Beltway Battle, this time between Maryland Metro 3 and DC Metro 2. Maryland edged Orlando 9-8 and then clinched the top seed with a 15-6 win over Philly 3. DC posted big wins over Ohio 1 and Georgia 3 and just edged Nor Cal 1 by a 10-9 score.
Following the games, the 2021 Heather Leigh Albert Award will be presented to the tournament's outstanding player. Seven future U.S. national team gold-medal winners are among the previous winners of the award that was first given out in 1994.
Schedule, May 30
8 a.m. – Games begin
8 a.m. – Blue Division championship, Field 12
8 a.m. – Green Division championship, Field 13
9 a.m. – Orange Division championship, Field 13
9 a.m. – Yellow Division, championship, Field 12
10 a.m. – Red Division championship, Field 12
11 a.m. – Awards presentation