NTDP Regional Tryouts serve as the first of three steps towards earning a spot on the USA Select U16 and U18 teams.
In the first phase of the selection process, USA Lacrosse will host regional tryouts across the country. The regional tryouts are one-day, 180-minute evaluations. The top 150 players will be invited to the National Combine, hosted in Maryland in August, and eventually 44 men will be named to the USA Select Teams to compete against international competition in October.
IMPORTANT:
You are trying out to make a national team NOT a regional team. Players are nationally ranked and try out as individuals. We select the top 150 men to the National Combine no matter where they live, where they go to school, or what team they play for. Players can try out at any regional tryout they prefer, and as many times as they want. However, players must either choose to try out in-person or via the virtual portal; they cannot register for both.
GOALIE SPOTS ARE LIMITED. For quality standards, and to make sure all goalies get a fair and equal amount of playing time, there are limited spots for the goalie position at each tryout location.
Regional tryouts may sell out! There is NO waiting list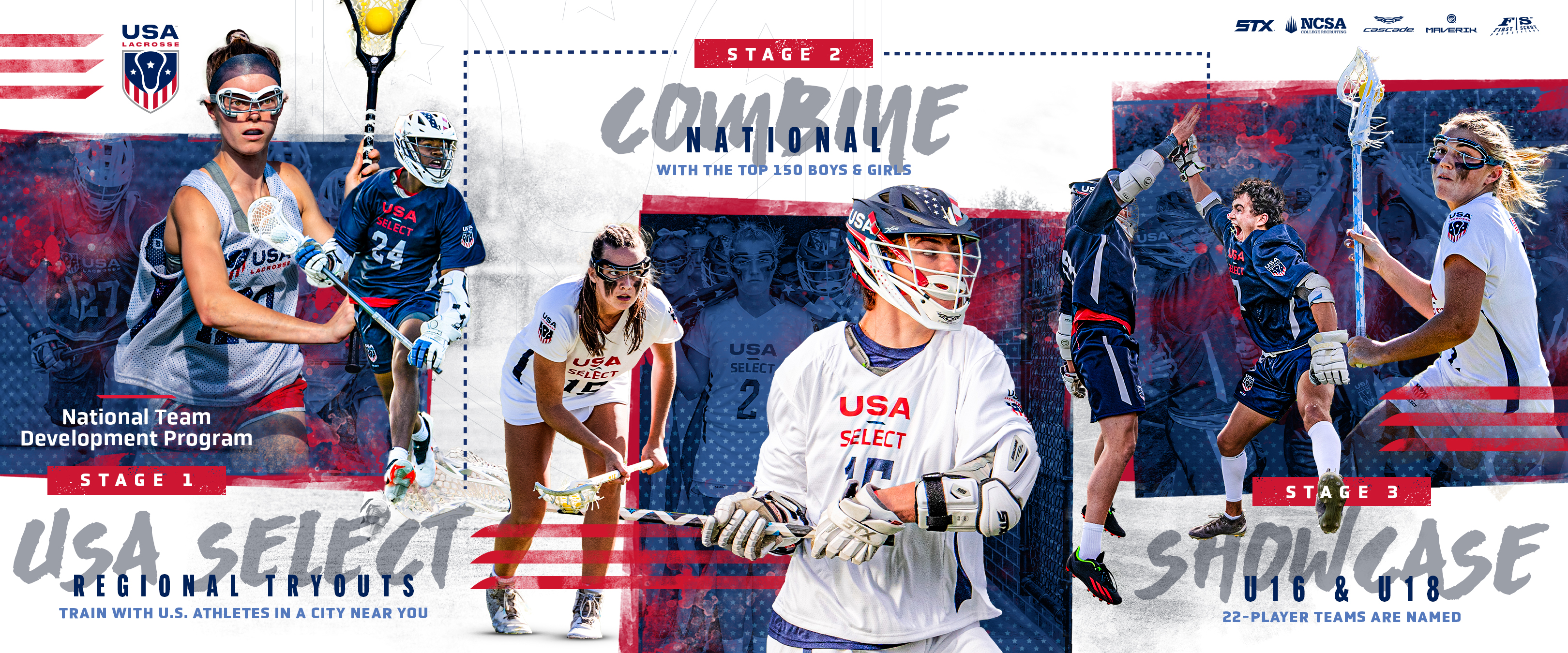 Curriculum
The drills and competitions featured in the USA Lacrosse NTDP tryouts have been developed by the U.S. National Team coaches & personnel, with the goal to mirror the same level of elite training and evaluation used at the national team level. Each aspect of this event is designed to provide participants with the opportunity to showcase their skill while also gaining insight as to what it takes to become a top-level player. Drills will include an emphasis on stick work, dodging, clearing, small-sided play, man-up/man-down situations, full-field play, and Olympic model 6v6 play. Throughout the tryout, individuals will be evaluated on athleticism, stick work, positional skill, game IQ, decision making, and overall field presence.
The purpose of the regional tryouts is to identify the elite players to move on to Stage 2 while giving all of the participants a first-class experience with a hands-on look at what the National Team pipeline looks like. Given that the tryout is only three hours in length, in-depth and individual instructional feedback is NOT guaranteed.
Eligibility
To be eligible for the 2023 National Team Development Program, individuals must be born on or between September 1, 2004 and August 31, 2009.
U18: The player must be born on or between September 1, 2004 and August 31, 2006.
U16: The player must be born on or between September 1, 2006 and August 31, 2009.
The Development Program is for high school athletes only.
*You must be enrolled in high school by the start of the 2023-2024 academic school year to be eligible. If you are age-eligible, but are enrolled in the 8th grade or in college at the beginning of the 2023-2024 academic school year, you are not eligible to participate this year.
**Any age-eligible 2023s who are not enrolled in college by fall of 2023 are welcome to apply as well.
Scholarships
For more information on need-based support, please contact USA Lacrosse at nationalteams@usalacrosse.com
Tryout Locations

Official NTDP Partners