ROUND ROCK, Texas — By strong consensus among many of the WCLA's Division I coaches, Boston College Club and Georgia have been the two most dominant teams throughout the 2022 season. In fact, Georgia resided at the top of the national ranking for the first half of the year and BC owned the top spot for the second half.
Combined, the two teams are 36-0 this season, and are the last two undefeated teams in the nation. BC is the No. 1 seed in the championship tournament and Georgia is the second seed. Fittingly, they will meet Saturday in the national championship game after each posted victories in Friday's semifinals.
In the first semi, Boston College (15-0) had five goals and three assists from junior Katie Duttenhofer, and four goals, three assists from freshman Meghan Chase to roll past No. 4 seed Virginia Tech Club, 15-9.
As has been BC's pattern, they built a working lead through the first half and iced the game with a strong second half. On Friday, the Eagles sealed the win by outscoring the Hokies 8-4 over the final 30 minutes after leading just 7-5 at halftime
"We seem to have become a second and fourth quarter team," said senior team captain Anne Kelly. "We're a confident team, but we also know that everyone here is good because they made it here."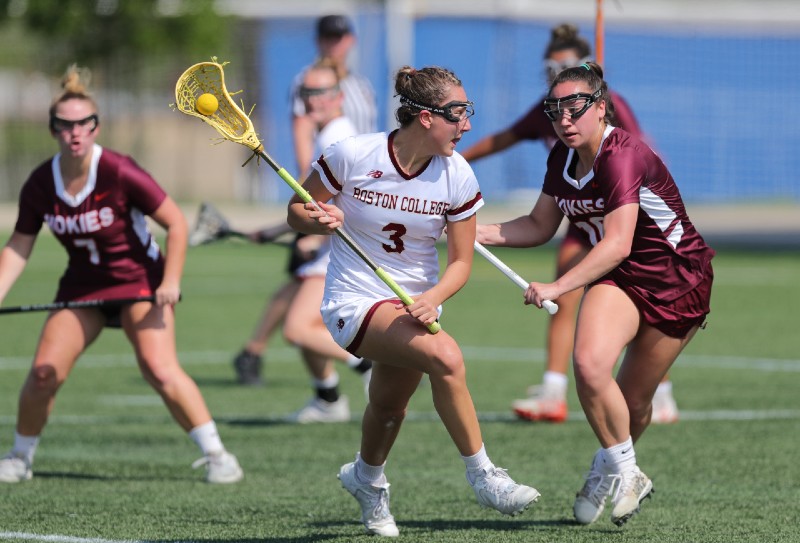 BC is making its second trip to the championship game, having finished as the national runner-up in 2014 with a one-goal loss to Pittsburgh in the final. They're hoping for a better outcome on Saturday.
"We believe we're the number one team, but now we have to prove it," Kelly said.
In the nightcap, Georgia's stifling defense held No. 3 Virginia Club scoreless over the final 25 minutes, turning a 7-6 deficit into a 13-7 victory. Anchoring the unit is All-American goalie and national player of the year Delaney Ott, who finished with 13 saves.
"Delaney is such a strong leader for us and just understands defense," said senior midfielder and team captain Sydney Jerman. "We have played a lot more man defense this year than we have in the past, but we still consider ourselves to be primarily a backer defense."

Georgia (21-0) returns to the championship game for the first time since winning the title in 2016. For the Bulldogs, Saturday's match-up with No. 1 seed Boston College seems like the right way to end the season.
"We're excited to play them," Jerman said. "We know they have a great offense, and it just seems super fitting that we're meeting in the last game."
Saturday's D-I championship game will start at 1 p.m. CST and is available for viewing via free streaming.
DJO, MedStar Health, and Gatorade serve as official event sponsors for the 2022 USA Lacrosse WCLA Championships.