What started as a conversation at LaxCon in 2020 become a reality last week in Detroit.
On May 7, two high school girls' teams from different states that both feature rosters with a majority of players of color met on the field. Both programs are members of USA Lacrosse's Urban Lacrosse Alliance.
"As two teams with mostly BIPOC players that are located within driving distance of one another, it became a goal for us to play one day and for the girls to play against other girls who look like them," said Christianne Malone, head coach of the JV team at Detroit's Cass Technical High School, the first high school team in the city and the only team made up of majority players of color.
Malone's conversation that day at LaxCon was with fellow Sankofa clinician Kenny Benoit, now in his seventh year as head coach at Bosse High School in Evansville, Indiana.
"I told her 'I would love to play you guys,'" Benoit said. "Since they were a new team, I offered to bring my team to Detroit for the first game."
Through some financial support from USA Lacrosse as well as fundraising by the Bosse players, the 450-mile trip from Evansville to Detroit became a reality. With school closed last Friday, travel planning also lined up well so that the Bosse players would not miss a day of classes.
"The girls busted their tails with fundraising because they wanted to make this trip," Benoit said. "It was a little nerve-racking because we had never traveled so far before, but everything worked out perfectly."
Since both Malone and Benoit also serve as clinicians for USA Lacrosse's Sankofa Clinic Series, it seemed only appropriate to incorporate a clinic as part of the event, which soon came to be dubbed the inaugural Sankofa Classic.
Malone and Cass Tech's varsity coach, Summer Aldred, handled most of the local logistics for the clinic, including recruiting the participants and securing the site, Detroit's Edison Public School Academy. The two coaches also serve as directors of the non-profit organization Detroit United and leveraged their contacts to spread the word.
"We reached out to our partner network and had a good turnout," Malone said. "It was a beautiful day, which helped."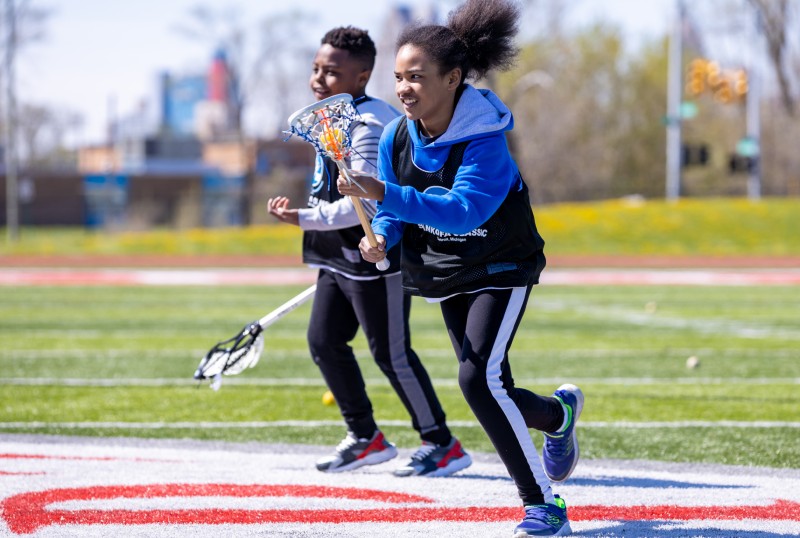 About 100 kids, ages 5-16, attended the clinic, with the high school players from both Cass Tech and Bosse joining the established Sankofa clinicians as instructors. Each clinic attendee received a free stick, ball, and T-shirt.
"It was so cool to see the players from our teams participating in the teaching," Benoit said. "This was an opportunity for the new kids who were just trying lacrosse to see what the future could hold for them. They know that they can do it because there are other people that look like them who are already playing the game. It was a very cool vibe."
Optimistically, Malone also noted that having high school players involved in the clinic could pay additional dividends in the future.
"This was a great steppingstone for the high school players because we would love for many of them to become coaches one day," she said. "This was a chance to see what it's all about to help others learn the game."
Following the conclusion of the morning clinic and a break for lunch, the play day continued with a pair of afternoon games. The Cass Tech and Bosse varsity teams played the first game, with Bosse winning a competitive contest, 7-5. Bosse then prevailed in the JV nightcap as well, winning 8-2.
"There was great sportsmanship on both sides," Benoit said. "For a second-year program, Cass Tech displayed a lot of poise and ability."
In preparation for the game, players on both teams had connected in advance via social media. They had introduced themselves and sent messages back and forth. That made a shared dinner feel like the right fit at the end of the day.
"Having everyone together for dinner was a beautiful experience," Benoit said. "Cass Tech's hospitality was top-notch."

The reviews have been overwhelmingly positive.

"To see all of this actually come to life was really great," Malone said. "It was amazing to see so many people in the stands to watch the games, from parents to the clinicians and even players from other teams. And the spirit among the players on the field was outstanding. It really touched my heart."
Both coaches view the milestone event as just the beginning of something that could grow beyond their own programs.
"With support from USA Lacrosse and the Sankofa Foundation, the vision is for this play day to grow to include other high school teams of color and highlight the diverse growth of lacrosse," said Malone, who hopes to take her team on a return trip to Evansville in 2023. "We don't want this to end after one time. We're on to something good."
Benoit noted the importance of the event in helping current players see that they have a place in the game and for future players to see the potential of lacrosse.
"It's not often that these girls see people who look like themselves on the field as competitors," he said. "Lacrosse is a space for everyone. It's for all of us."