RALEIGH, N.C. — D.C. Metro ended Massachusetts/Rhode Island's reign as the champion of the top flight at the USA Lacrosse Women's National Tournament, winning the championship game of the Red Division by a 15-9 score at the WRAL Soccer Park on Sunday.
The Massachusetts/Rhode Island region had won the top flight at the last three tournaments and in four of the last five, but D.C. Metro brought home its first title since 2013 thanks in large measure to a dominating effort in the draw circle.
Catherine LeTendre, a 6-foot-1 sophomore from The Potomac School and Sophia Stoltz, a 5-foot-11 sophomore from Stone Ridge School, did most of the damage in the circle. LeTendre took the majority of the draws with Stoltz, her teammate from the Capital Lacrosse Club, gathering up many of the draws in addition to stepping into the circle herself.
They were especially dominant to open the second half, helping D.C. Metro break open a close game. D.C. Metro led 8-6 at the half, but it was over seven minutes of game time before Massachusetts/Rhode Island got it first sustained possession in the second half. By that time, D.C. Metro had jumped out to a 12-6 lead.
Stoltz scored two of D.C. Metro's goals in the four-goal run to open the second half and finished with four for the game. Coco Rigoli also scored four times for D.C. Metro and Stella Pence had a hat trick.
Giulia Colarusso, a junior from the Groton School committed to Boston College, led Massachusetts/Rhode Island with four goals and Tori Balser, a Noble & Greenough junior committed to Harvard, had a goal and an assist.
D.C. Metro's top two teams all won division championships with D.C. Metro 2 winning the Yellow Division.
Recaps from the other division championships follow.
Blue Division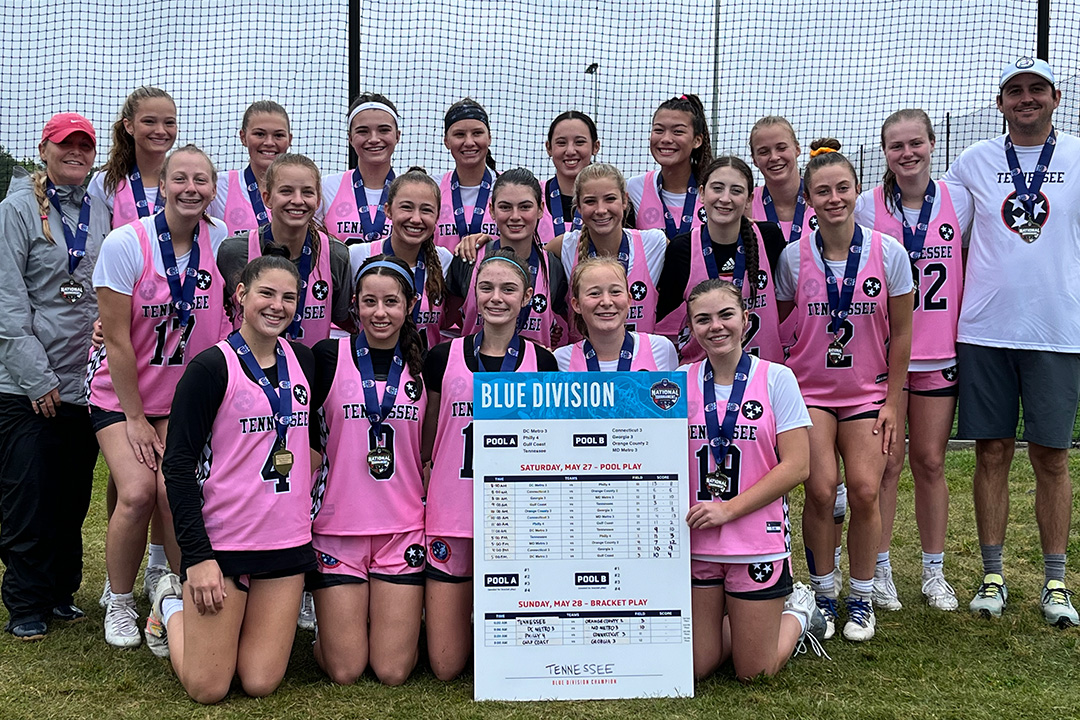 Tennessee wrapped up its dominant tournament with a 16-5 win over Orange County (Calif.) 2. Aria Burton, a sophomore at Brentwood High School, scored the first two goals of the game and finished with a team-high five. Emerson Symonds added three goals and Claire Fritts, Taylor McCall and Olivia Rewers each scored twice for Tennessee. Natalie Chapman and Katie Meneses scored twice for Orange County.
Green Division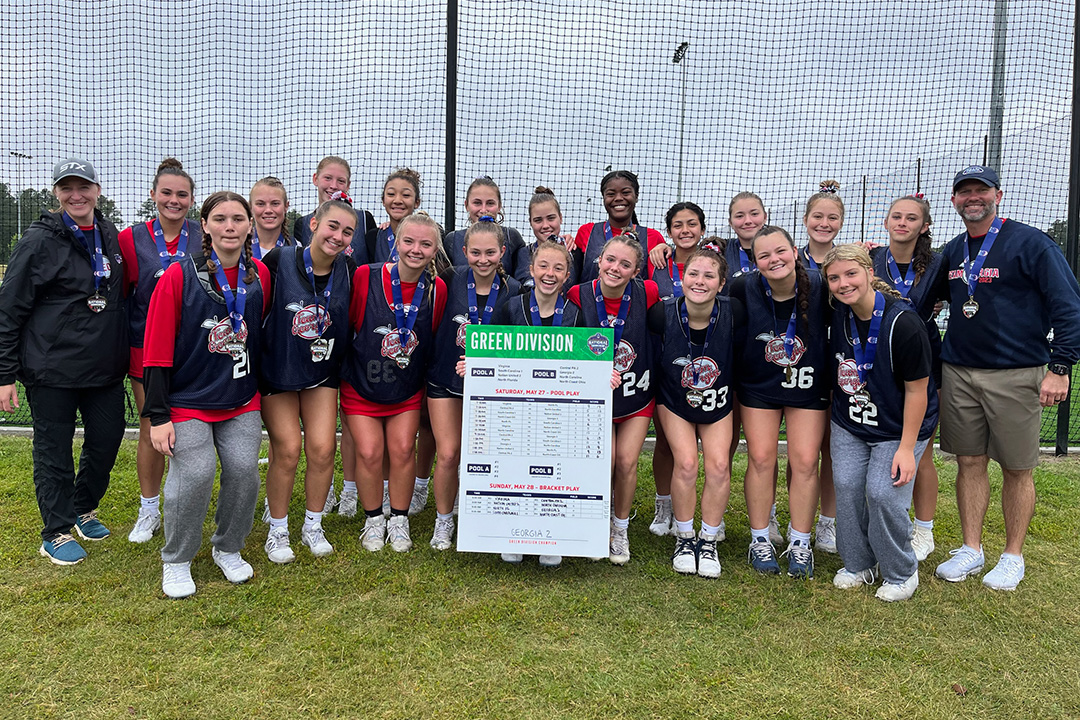 Georgia 2 held off a spirited late rally from North Florida to hang on for a 10-9 victory in the championship game. Georgia scored the first five goals of the game and held a 10-6 lead with under six minutes to play. Ashley Albert, Hannah Toole and Lily Toole then scored consecutive goals to get North Florida within a goal with 2:12 remaining in the game. Georgia's Bryn Birkholz won the ensuing draw and Georgia ran out over half of the remaining time and North Florida could not get the equalizer after finally regaining possession. Ella Bea Croteau, a sophomore at Roswell High School and Megan Canavan, a sophomore at Buford High School, led Georgia's offense. Croteau had three goals and an assist and Canavan had two goals and an assist. Lily Mosser led North Florida with three goals.
Indigo Division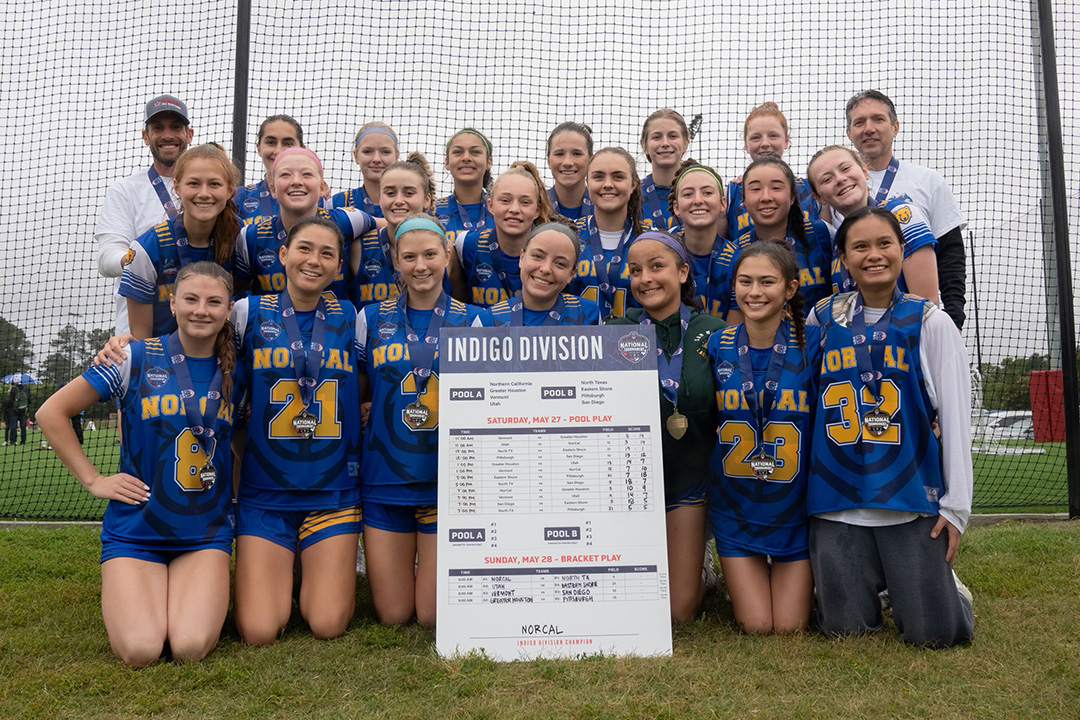 North Texas scored five straight goals to overcome an early 4-0 deficit, but Nor Cal's Tory Agnew scored the last two goals of the first half to regain the lead for her team. Nor Cal pulled away in the second half for a 12-7 victory. Agnew, a junior at Davis High School committed to UC Davis where her older sister Alex has been the Aggies' leading scorer the last three seasons, had a game-high five goals to lead Nor Cal. Nor Cal goalie Krystalin Respicio made four second-half saves while allowing just two goals to keep North Texas at bay. Mae Flanagan and Mia Jensen each had three goals for North Texas.
Orange Division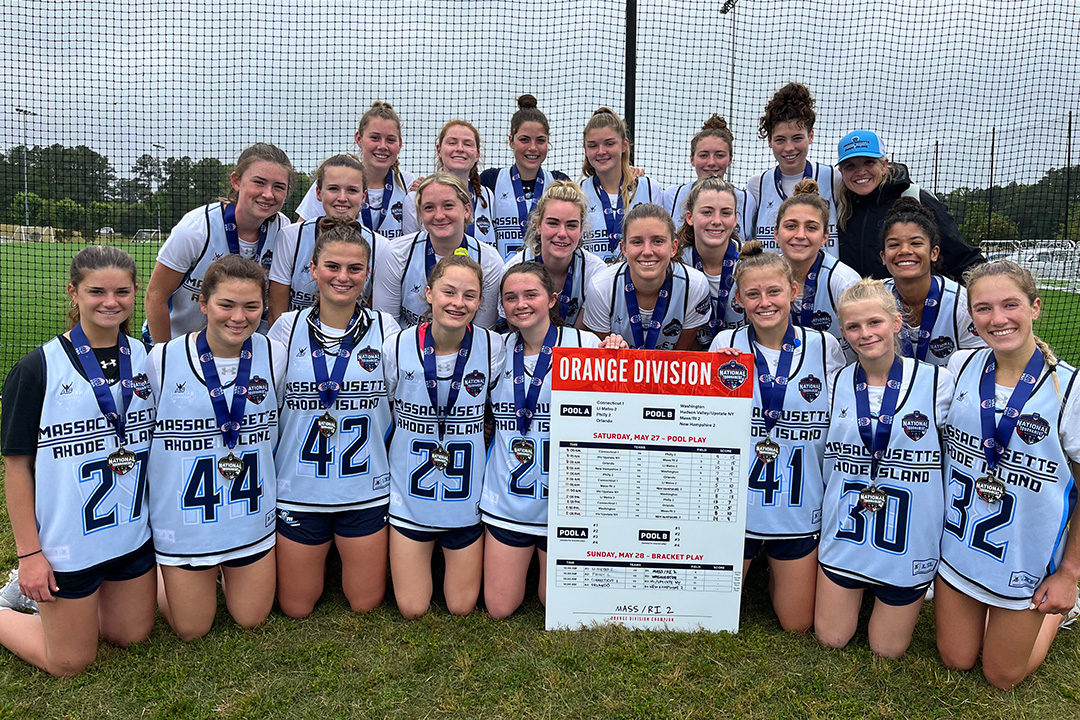 Massachusetts/Rhode Island 2 pulled away from a 3-3 halftime tie to beat Long Island Metro 2, 7-4. Long Island won the opening draw of the second half and maintained a long possession, but Madeleine Greenwood made a pair of saves and Aubrey McMahon converted at the other end to give Mass/RI the lead. Mass/RI eventually scored four straight before Devon St. John scored on a free position goal for Long Island with 3:34 remaining. McMahon and Siobhan Colin, both juniors at Notre Dame Academy, scored twice for Mass/RI. St. John led Long Island with a pair of goals.
Violet Division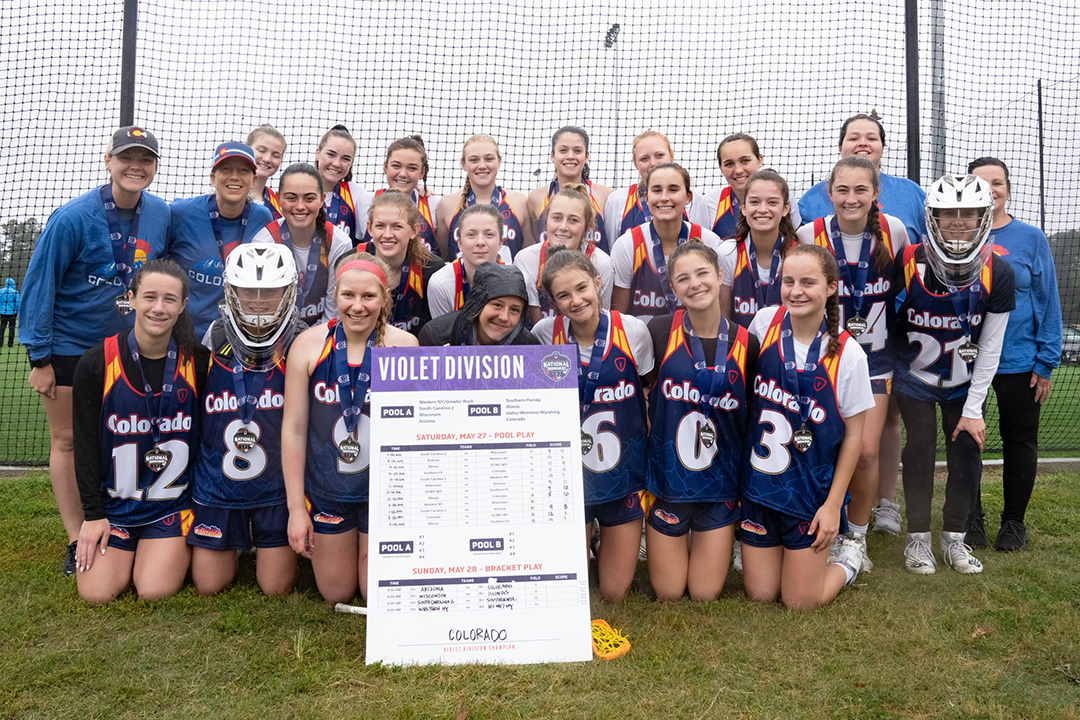 Colorado scored the last five goals of the first half to overcome a 3-2 deficit and pulled away for a 15-7 victory over Arizona. Phoebe Rogala, a junior at Regis Jesuit High School, led Colorado with three goals and Kailen Mant, Rory Carr and Emilia Calimari each scored two with Calamari's effort highlighted by a behind-the-back score from an Ava Cebrian feed in transition. Victoria Chen led Arizona with three goals and Jacqueline Jiminez scored twice. Arizona goalie Lexie Hoskin made five first-half saves.
Yellow Division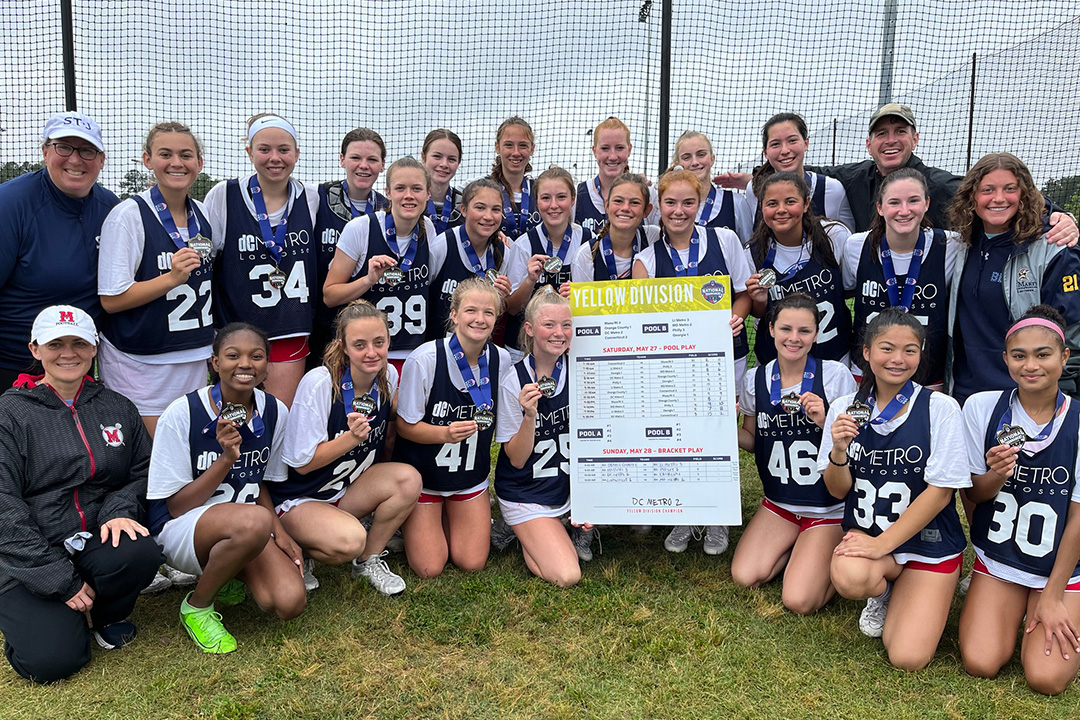 D.C. Metro 2 led from start to finish in a 13-5 victory over Georgia 1. Avery Coleman, a sophomore at Bishop O'Connell High School, led D.C. with a hat trick and added an assist. Amory Imperatore added two goals and an assist. Alexis Eichenberger led Georgia with a pair of goals.
Championship Scores
Blue Division: Tennessee d. Orange County (Calif.) 2, 16-5
Green Division: Georgia 2 d. North Florida, 10-9
Indigo Division: Nor Cal d. North Texas, 12-7
Orange Division: Massachusetts/Rhode Island 2 d. Long Island 2, 7-4
Red Division: D.C. Metro 1 d. Massachusetts/Rhode Island 1, 15-9
Violet Division: Colorado d. Arizona, 15-7
Yellow Division: D.C. Metro 2 d. Georgia 1, 13-5