As everyone knows, using the proper protective equipment in any sport greatly enhances player safety. In lacrosse, that includes new chest protectors and shoulder pads that meet the NOCSAE performance standard ND200, significantly reducing the risk of commotio cordis.
Commotio cordis is a heart rhythm disruption caused by a blow to the chest. Although rare and infrequent, it is one of the leading causes of sudden cardiac death in athletes. It can be caused by an impact from a lacrosse ball or stick which doesn't have to be hard or fast. This impact can cause the heart to change its normal rhythm and lead to sudden cardiac arrest. Immediate CPR and defibrillation are necessary to restore the heart rhythm.
Following years of research support from USA Lacrosse and NOCSAE, with a total investment of over $2 million, the new performance standard was finalized in 2017 to protect against commotio cordis.
● See the details with this infographic
USA Lacrosse was the first governing body to mandate the NOCSAE standard, requiring all goalies in girls' and boys' lacrosse to wear protectors that meet the ND200 standard. Beginning in 2022, the rule will extend to all field players in boys' and men's lacrosse. Compliance with the standard will further enhance player safety and help prevent catastrophic injuries. The NCAA and NFHS also require the NOCSAE standard.
All chest protectors and shoulder pads that meet the NOCSAE ND200 performance standard must contain the NOCSAE lacrosse logo and the SEI certification mark (shown below) on both the packaging and the product to be legal for play. Products are now available through manufacturers and retailers.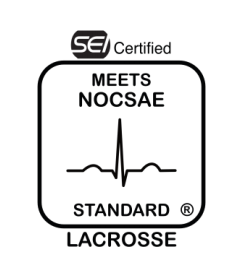 Consumers are also encouraged to check the Safety Equipment Institute (SEI) website (https://www.seinet.org/search.htm) under Program: Chest Protectors (Lacrosse) to verify that the specific brand is listed as approved.