ROUND ROCK, Texas – If there's one thing that the Loyola Maryland club players all hate, it's the 'Circle Drill' that is part of their practice sessions. It's something they do to improve on their stick work, ball possession, and quick decision-making, but similar to eating your vegetables and flossing regularly, the benefit is more long term.
"Everybody hates doing it, but it pays off," said senior team captain Erin Haverty.
That dividend was on display Saturday in the USA Lacrosse WCLA Division II championship game as the No. 2 seeded Greyhounds controlled pace and extended possessions in the second half to register a 13-11 victory over No. 13 seed Vermont and win their third straight national championship.
Trailing 8-6 at halftime, Loyola (14-1) outscored Vermont 4-0 in the third quarter to take the lead, fueled by Caity Bush's third goal of the game and individual tallies by Emily Grob, Sarah Peltier, and Haverty.
The Greyhounds added three more goals though the first five minutes on the fourth quarter to extend their advantage to 13-9, and then put the skills from their favorite drill on full display.
Extended possessions, patience on offense, and good decision-making helped effectively shorten the game, which is still possible in the WCLA ranks since there is no possession clock.
"We wanted to go to longer possessions because time was our ally," Haverty said.
Vermont did score twice in the closing minutes with back-to-back goals by freshman Victoria Horton but ran out of time and opportunities to complete the comeback.
As one of three tournament qualifiers from the New England Women's Lacrosse League, the Catamounts made their first appearance in the championship game after recording three upsets in three days, highlighted by their win over No. 1 seed Utah Valley in the semifinal. Vermont finished 9-4 overall.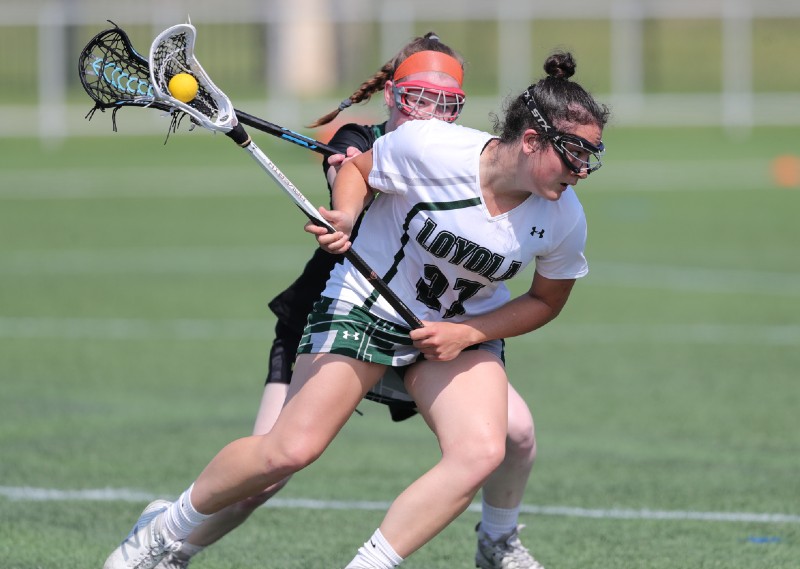 "We knew we had to flip the switch at halftime and change the momentum," said Loyola freshman Emily Grob, who started the second half run with a free-position goal. Grob also had key wins on the draw for the Greyhounds and was named the tournament's most outstanding midfielder.

"I try to push it to myself when I can, and the self-draw was working today," Grob said.
Loyola finished the year 14-1 overall with a nine-game winning streak. The Hounds are now 24-6 all-time in WCLA Tournament play, with the most wins of any D-II program.
After runner-up finishes in 2010 and 2017, the Greyhounds now become the first Division II team to win three championships, adding the 2022 title to their previous wins in 2018 and 2019 (there were no championships in 2020 & 2021).
"We knew it would be a long road back after two years of COVID, but we were determined to keep our program at the top," Haverty said.