In 2021, less than a year removed from high school, Rowan Phelps knew how she could best give back to her alma mater, and more directly, to students like herself that love lacrosse. She took it upon herself to coordinate the application for a USA Lacrosse equipment grant that could help launch a girls' lacrosse team at Musselman High School in Inwood, West Virginia.
"I knew that a grant would be vital to getting a team started," said Phelps, who had grown up playing the game in the local rec program. "Getting that support was the foundation."
Through her efforts, Musselman High did receive a USA Lacrosse equipment grant, and in the spring of 2022, put its first girls' team on the field. With parents and family members involved in everything from securing local sponsorships to helping with game operations, a strong local support system was quickly established.
Phelps served as the initial coach of the squad, which also included her younger sister, Baileigh, as one of the senior team leaders. MHS was one of two new teams to join the growing West Virginia Scholastic Lacrosse Association that year.
"We didn't win a game in our first season, but all the girls had a great attitude," Phelps said. "Opponents would compliment us after games because our girls had such a positive attitude."
Season two, during this past spring, brought better results, including the club's first victory. Increased participation numbers, with a roster of about 20 girls, also helped. Phelps moved to an assistant's role in 2023, but also recruited both Baileigh and brother Grayson, who had played for MHS' boys' team, as fellow assistant coaches.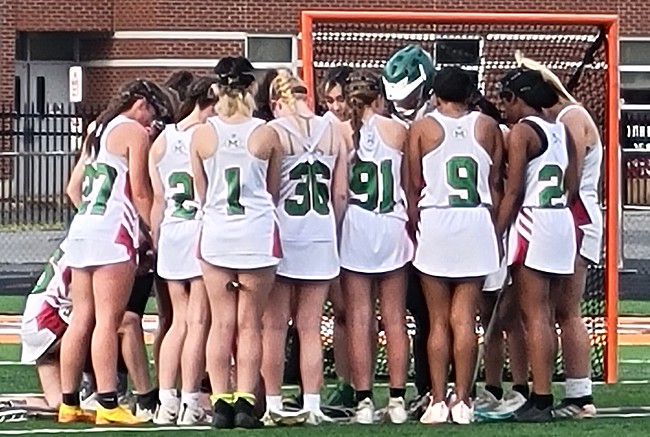 "The progression of their skills by our players has been insane," Phelps said. "In our first season, we were kind of like deer in the headlights, but there's been so much progress. Our girls love the sport so much and just want to continue learning and growing."
Phelps says it's not uncommon to see players carrying their sticks throughout the school day in order to improve their cradling skills, or putting in extra time outside of practice with Wall Ball.
"I wanted the girls to have a good experience, and the grant made all the difference to help us conquer the obstacles in front of us," Phelps said. "It was make-or-break for us."
You Can Help
The USA Lacrosse Foundation is a 501(c)(3) non-profit organization that serves as the philanthropic arm of USA Lacrosse. The Foundation helps drive the three main pillars of the USA Lacrosse mission: 1) Fuel the growth; 2) Enrich the experience; 3) Field the best national teams. Supporting the foundation provides thousands of children across the country the opportunity to experience the gift of lacrosse. To learn more about the USA Lacrosse Foundation, please visit www.usalacrosse.com/foundation.