There may be a strong sense of déjà vu when the 2023 USA Lacrosse Women's Collegiate Lacrosse Associates (WCLA) National Championship gets underway next Tuesday in Virginia Beach.
To begin with, both of the number one seeds – Boston College Club in Division I and Utah Valley in Division II – were also the top seeds in last year's championship tournament. Additionally, 22 of the 28 teams at this year's event were also qualifiers for last year's tournament. That's one of the highest returnee rates in the championship's 22-year history.
"We are ready and looking forward to facing a lot of challenging competition," said senior Hannah Abere, club president for Boston College Club.
The four-day event at the Princess Anne Athletic Complex and Sportsplex begins on Tuesday, May 9 with opening round games for the 16 Division I teams. The 12 teams that comprise the Division II field begin play on Wednesday. The tournament concludes with championship games for both divisions on Friday, May 12.
Fans are welcome to attend all games. Admission and parking are free.
The WCLA is comprised of nearly 150 college club (non-varsity) teams from coast-to-coast that compete under the USA Lacrosse umbrella. From these, the most deserving Division I and Division II club teams qualify for the season-ending national championships, conducted annually since 2001 by USA Lacrosse.
The championship event returns to Virginia Beach for the fourth time overall, with previous visits in 2014, 2015, and 2019. The site has been especially kind to this year's No. 3 seed, Pittsburgh Club, which has captured both of its WCLA Division I titles at this venue.
DJO and Gatorade serve as official event sponsors for the 2023 USA Lacrosse WCLA Championships.
Boston College is the defending Division I champion and earned the top seed for the second straight year following an undefeated 14-0 regular season. The Eagles are making their 10th overall and sixth straight appearance in the national tournament, and bring a 30-game winning streak into Tuesday's opening round game against No. 16 seed Florida State.
"Coming into this season as reigning national champions, we knew that we would have a target on our backs, so from the get-go, we have made sure not to underestimate any team. We feel like the competition against good teams during our regular season has prepared us well for the Nationals," Abere said.
BC's impressive 2023 resume includes nine wins over teams that also advanced to Virginia Beach, including victories over No. 2 seed Georgia, No. 3 Pittsburgh, and No. 4 Michigan Club. The Eagles are trying to become the first back-to-back Division I champion since Colorado State in 2010 and 2011.
"We definitely feel some pressure to repeat as champions, but we want to use that pressure in a positive way to perform at our very best," Abere said. "We hope to end this season on another high note."
Adding to the feeling of déjà vu this season, the Georgia Bulldogs earned the second seed behind BC for the second consecutive year. Coming off its seventh straight Southeastern Women's Lacrosse League (SWLL) title, Georgia brings a 17-2 record to Virginia Beach and hopes to make another title run.
Georgia has lost just three games over the past two seasons, with two of those losses coming against Boston College. The first of those was in the 2022 championship final, a game in which UGA's All-American goalie Delaney Ott got injured and missed the second half. Ott has returned strong in 2023 with a 60.1 save percentage through 19 games.
The other loss was in February, a 17-12 setback to BC in a neutral site game played in California. Georgia has won 14 straight since that loss.
"We have made some adjustments since those early games in February and figured out where some of our new players fit best, so we're super ready for nationals," Ott said. "We know that BC has a ton of talent and they are a very competitive team, so it should be a great game if we are to meet again."
Georgia is one of three teams representing the SWLL in the Division I field, tied with the Western Women's Lacrosse League (WWLL) for the most from any league. No. 7 seed San Diego State Club was champion of the WWLL, defeating No. 9 UCLA in the league final, and returns to the national tournament for the first time since 2019.
"There is always a learning curve at the beginning of a season, especially with a lot of new players coming in and learning to work as a cohesive unit," said SDSU president Sophia Koch. "This season we were able to capitalize on each other's strengths and learn how to work best with each other."
WCLA Division I First Round Games – Tuesday, May 9
11 am (Field 1) -- #1 Boston College Club (14-0) vs #16 Florida State (12-2
11 am (Field 6) -- #8 Florida Club (12-3) vs #9 UCLA (9-4)
11 am (Field 7) -- #5 Utah (9-2) vs #12 Virginia Club (8-6)
11 am (Field 8) -- #4 Michigan Club (11-6) vs #13 Arizona State Club (10-6)
2 pm (Field 1) -- #3 Pittsburgh Club (7-2) vs #14 Washington (7-2)
2 pm (Field 6) -- #6 Brigham Young (9-5) vs #11 Texas (13-4)
2 pm (Field 7) -- #7 San Diego State Club (12-3) vs #10 Northeastern (7-4)
2 pm (Field 8) -- #2 Georgia (17-2) vs #15 Michigan State (12-3)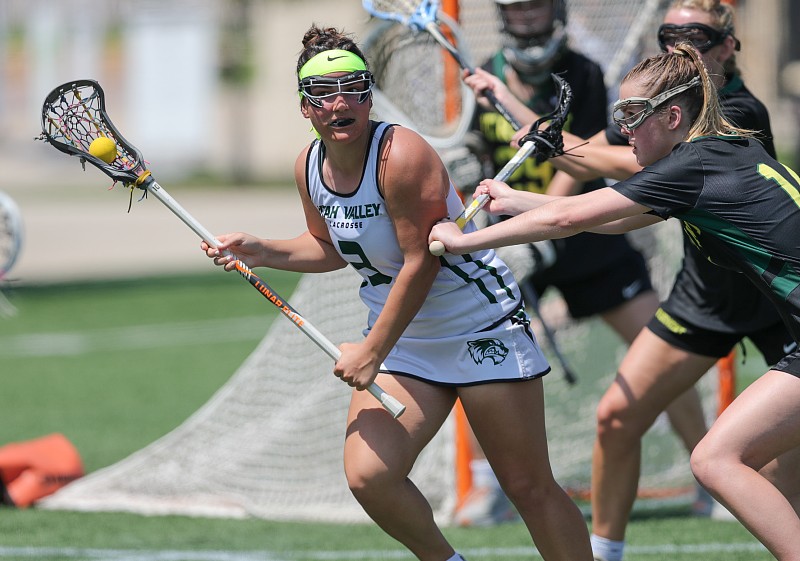 In the 12-team Division II bracket, Utah Valley earned the top seed for the second time after winning the Rocky Mountain Women's Lacrosse League (RMWLL) title again this season. The Wolverines, 14-1 overall, are making their third overall appearance in the championship.
"We were 100-percent motivated for this season by last year's success," said Maya Lightfoot, club president and a senior attacker. "Getting the number one seed again is a huge motivator for us and a confidence boost going into the tournament."
Utah Valley jump started its successful 2023 campaign with a 4-0 showing at the Santa Barbara Shootout in February, including wins over nationally ranked Denver Club and CSU San Marcos, and won its first 10 games of the season. The Wolverines rebounded from their only loss, a narrow 11-9 defeat at Division I Utah, by winning their final four games and capturing the RMWLL title with a second victory over Denver.
"I think we have a really strong region and we had two tough games against Denver this year," Lightfoot said. "We have a group that banded together very well this season and we're excited to be playing in the national tournament again."
In Division II, the teams are arranged into four pools of three teams each. A round-robin within each pod determines the qualifier that advances into the semifinal round. Single-elimination is utilized in the semifinals and final.
WCLA Division II Opening Day Games – Wednesday, May 10
9:30 am (Field 2) -- #1 Utah Valley (14-1) vs #8 Santa Barbara City (10-1)
9:30 am (Field 5) -- #2 New Hampshire Club (10-2-1) vs #7 Boise State (7-5)
9:30 am (Field 4) -- #3 Vermont Club (7-2-1) vs #6 CSU San Marcos (12-1)
9:30 am (Field 3) -- #4 Providence (6-3-2) vs #5 Denver Club (10-3)
1:00 pm (Field 2) -- #1 Utah Valley vs #12 Pacific Lutheran (5-5)
1:00 pm (Field 5) -- #2 New Hampshire Club vs #11 Portland State (6-2)
1:00 pm (Field 4) -- #3 Vermont Club vs #10 Univ. of Portland (7-4)
1:00 pm (Field 3) -- #4 Providence vs #9 Air Force Academy (2-5)
Division II Pool Play concludes with games on Thursday morning.
USA Lacrosse will provide free video streaming of Thursday's D-I and D-II semifinal games and Friday's two championship games on its YouTube channel. Additional details will be announced soon at www.usalacrosse.com/wcla.
Complete coverage of the championships – including stories, scores, updated schedules, brackets, and photos - will be available throughout the event on usalacrosse.com/wcla and USLaxMagazine.com, and via social media (@USA_Lacrosse and @USALacrosseMag).