USA Lacrosse headquarters were built thanks to the generous support of the lacrosse community. The main building is named in honor of the Intercollegiate Women's Lacrosse Association (IWLCA) in recognition of the organization's lead gift.
Inside the building is the National Hall of Fame and Museum, highlighted by the Richie Moran Hall of Fame Gallery, named in honor of the Hall of Fame coach from Cornell. The three-story, 45,000-square foot building features the Crum Family Education and Training Center, additional meeting spaces, and locker rooms and storage on the ground level.
The playing field is named William G. Tierney Field in honor of the Hall of Fame coach that won national championships at Princeton and Denver.
Just above the seating area to Tierney Field is the Henry A. Rosenberg Jr. Promenade, which includes The Creator's Game statue sculpted by Jud Hartmann that was moved from the old US Lacrosse headquarters. The promenade also includes 21 pillars honoring college lacrosse programs from around the country.
Surrounding the south end of the field is the Chris Sailer Trail honoring 11 Intercollegiate Women's Lacrosse Coaches Association Trailblazers: Pat Genovese, Tina Sloan Green, Caroline Haussermann, Kathy Heinze, Carole Kleinfelder, Gillian Rattray, Sue Stahl, Sue Tyler, Lanetta Ware, Marge Watson and Judy Wolstenholme.
Located off the trail is the 9/11 Memorial, honoring the nearly 70 individuals from the lacrosse community that died during the terrorist attacks on Sept. 11, 2001. Landscape architect Kris Snider, a former All-American player at the University of Virginia, designed the memorial.
Further down the trail is a statue remembering former Virginia women's lacrosse player Yeardley Love who died in 2010. The One Love Foundation helps honor her memory while working to educate young people about healthy and unhealthy relationships and empower them to avoid abuse and learn how to love better.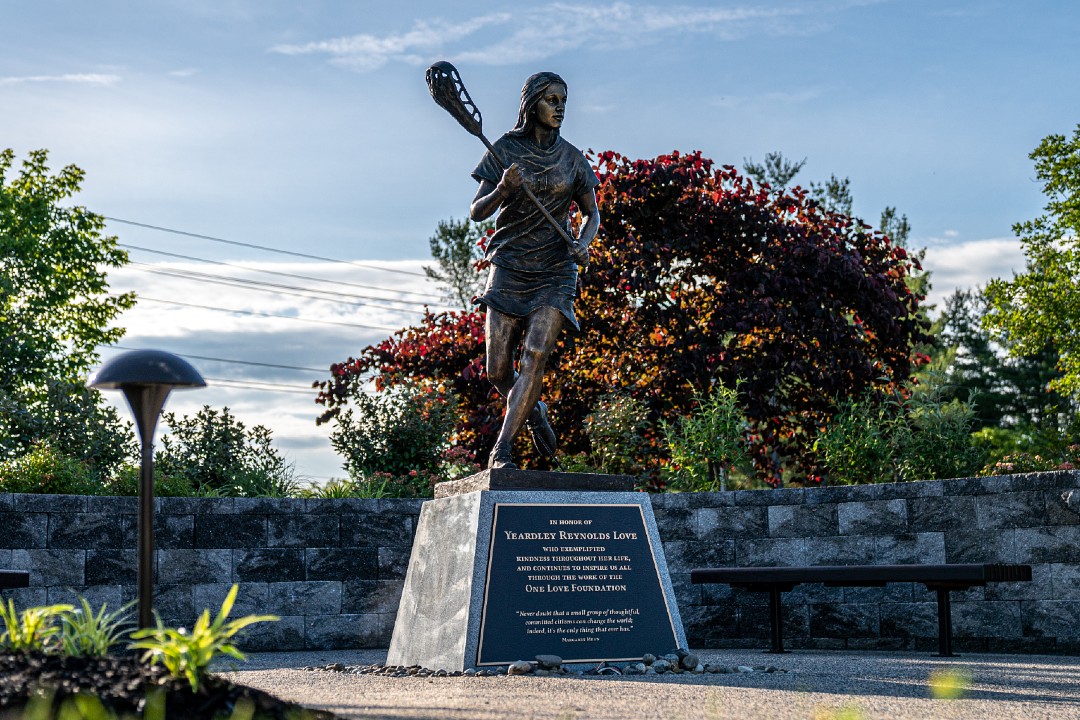 USA Lacrosse 9-11 Memorial