Class of 2021 inductees, pictured left to right, Kris Snider, Sheehan Stanwick Burch, Steve Stenersen, Jenny Levy, Tony Resch, Beth Stone, Ryan McClay, and Patty Daley.

Nine lacrosse greats were formally inducted as the newest members of the National Lacrosse Hall of Fame Saturday evening during a festive celebration at The Grand Lodge in Hunt Valley, Maryland.
The nine members of the Class of 2021 had to wait an extra year for their official recognition due to delays caused by the Covid-19 pandemic, but a sold out gathering of over 400 attendees provided ample evidence that the inductees still had plenty of supporters.
Three inductees – Sheehan Stanwick Burch, Ryan McClay, and John Pirro - were officially welcomed as truly great players, two others – Tony Resch and Jenny Levy - were inducted as truly great coaches, one was a truly great official, Patty Daley, and three inductees – Beth Stone, Kris Snider, and Steve Stenersen – were honored as truly great contributors.
Burch, a four-time All-American at Georgetown University who still ranks as the school's all-time leader in goals scored and total points, was the first inductee. As the oldest of eight siblings who all played college lacrosse, she noted the impact that the game has had in the life of her family.
"Lacrosse means so much for my immediate family, my seven siblings and my parents and the relationships that were built," said Burch, who remains active in the sport as a television analyst and commentator. "With my younger siblings, the way we stayed connected was going to their games when they were in college. Doing the TV side of it, I often had to call them to get an understanding of, 'How do you like the rule changes, and how's it feel on the field?' Lacrosse has really tied us together."
McClay was a four-time All-American defender at Cornell University who then enjoyed an all-star professional career in Major League Lacrosse and also captured world championships in 2002 and 2010 as a member of the U.S. Men's Team. He was selected to the All-World team following both championships, which bookended his international career.
"Making the U.S. team in 2002 was probably the vindication of my career," said McClay, who was a rising college senior at the time. "I was at Cornell, and nobody really cared about Cornell at that time. Then, to be a part of the 2010 team was pretty special and the highlight of my playing career because it required a lot of lonely mornings doing workouts before work to keep myself in shape."
The posthumous induction of Pirro, a three-time All-American defender at Roanoke College, marked one of the emotional high points of the evening. Pirro passed away in 2013 due to complications from Huntington's Disease. Many of his former teammates, family members, and others from the Roanoke lacrosse community were on hand to honor his memory as sons Joe and Nick, along with several of Pirro's teammates, came forward to accept the award.
"My dad was a special guy," said Joe Pirro. "A wonderful teammate, father, and friend."
Resch has spent 30 years coaching with great success at all levels of the game, with multiple professional championships in both the National Lacrosse League and Major League Lacrosse, in addition to two gold medals with the U.S. Men's team and four state championships as a high school coach.
"I try not to over-complicate it as a coach," Resch said. "I am very much about the fundamentals and about being a good teammate, working hard and learning and growing and trying to improve. That approach has served me pretty well at multiple levels."
Still active, Levy ranks third among NCAA Division I coaches with 395 wins through 27 seasons as the only head coach the North Carolina women's program has ever had. Levy has led the Tar Heels to three NCAA national championships and piloted the U.S. Women's team to the gold medal at the 2022 World Lacrosse Championships.
"I love being part of a group and part of a team," Levy said. "That's the thing I am most passionate about. I'm always very aware to enjoy those moments that we have with the team, that is special to that group."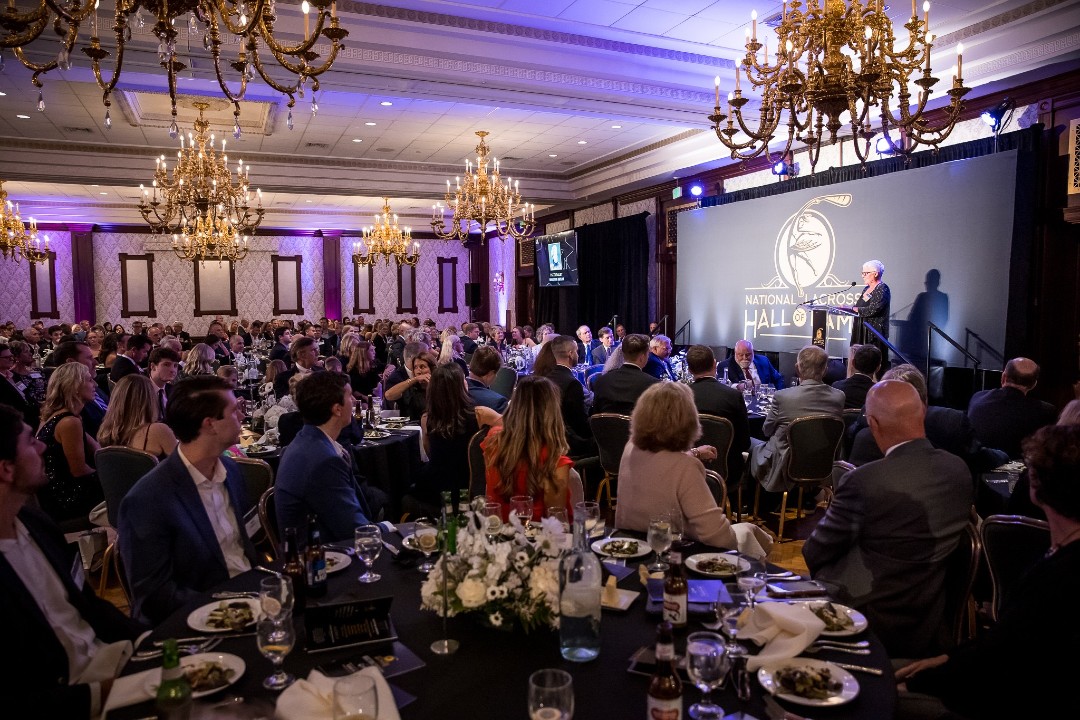 For 30 years, Daley served in training and leadership of women's lacrosse officials at the Local, District, and National levels, while also being one of the top officials on the field. During her career, she worked 18 NCAA championship and semifinal games, and also served as the lead official for many league championship games.
Upon taking the stage, Daley used her newfound powers as a Hall of Famer to playfully absolve fellow inductees Resch and Levy for any instances when they may have crossed the line of good decorum in their coaching antics.
"You are forgiven," Daley said, good-naturedly. She added, "I loved the game, and I loved every game I reffed. Just being part of a great team on the field, as we were as players, really appealed to me throughout my career."
A lifetime New Yorker, Stone has over three decades of service in leadership roles to support women's lacrosse. She is past president of both the USWLA High School Coaches and the Midwest Schoolgirls Lacrosse Association, as well as former chair for girls' lacrosse in New York's Empire State Games. On the international level, Stone has served as the women's competition chair for five FIL/WL World Championships.
"There are incredible people involved with the sport, and it's those people that keep you involved," Stone said during an emotional acceptance speech. "The friends I have made through the sport of lacrosse are lifetime friends."
Similar to Stone, Snider has been equally committed to growing boys' lacrosse in the Pacific Northwest. He is a founding member of Washington High School Boys' Lacrosse Association and served on its leadership board for 14 years. He also helped to launch two other youth lacrosse organizations, as well as the Washington Chapter of USA Lacrosse.
"It's gone just like a lightning bolt, it's so fast," Snider said. "Forty years has gone bye and I still feel as fresh as ever. It all just comes back to the sport itself. It gave me so much joy and I have just wanted to pass that along."
As the former president and CEO of USA Lacrosse, serving from the organization's inception in 1998 until his retirement in 2021, perhaps nobody has been more influential in the growth of the sport than Stenersen. He began his leadership as executive director of The Lacrosse Foundation in 1984, then played a key role in creating a unified national structure for lacrosse, ultimately resulting in the merger of eight national organizations to form USA Lacrosse.
As acknowledgement of his deep contributions to the sport, Stenersen received two standing ovations from the packed house.
"There were so many people whose vision, encouragement, and support made it all worthwhile," Stenersen said. "No accomplishment that is, in some way, connected to me, was made solely because of me. It was due to these wonderful people who cared so deeply and selflessly about the future of the sport."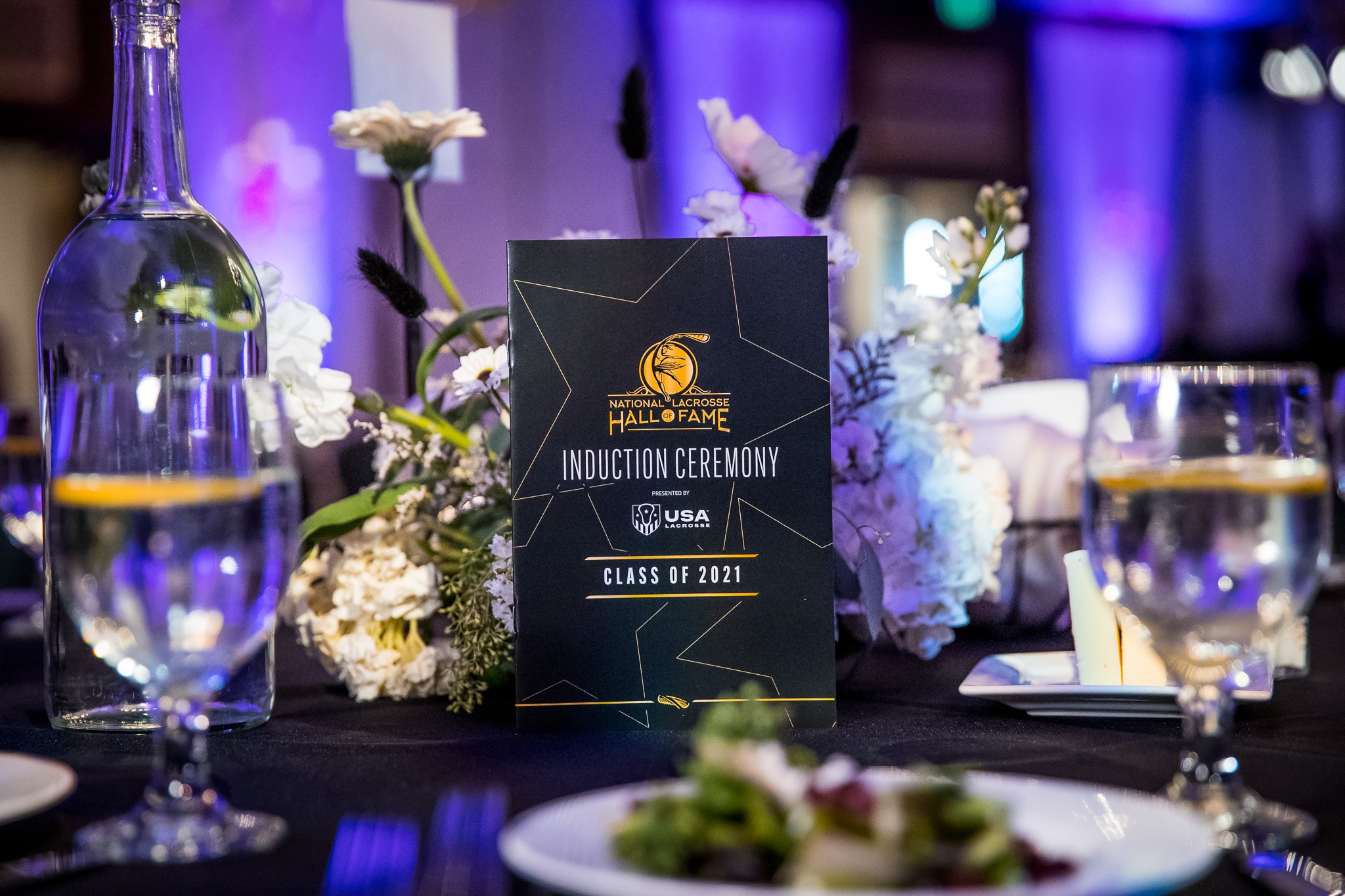 The National Lacrosse Hall of Fame, a program of USA Lacrosse, was established in 1957 to honor men and women who by their deeds as players, coaches, officials and/or contributors, and by the example of their lives, personify the great contribution of lacrosse to our way of life. Since its inception, over 450 lacrosse greats have been recognized in the National Lacrosse Hall of Fame & Museum, which is located at USA Lacrosse Headquarters in Sparks, Maryland.