As the third-annual National Celebrate Lacrosse Week raced toward the finish line Sunday, USA Lacrosse's Matt Hamilton completed his road-trip, traveling the country to take in the sights and sounds as thousands of kids picking up a stick for the first time.
BALTIMORE - Thursday, Nov. 9
As I sit here in the aisle seat of my Southwest flight from Baltimore to Dallas, I keep picturing what this three-day stretch will bring — each time a different vision pops into my head.

When I told my colleagues at USA Lacrosse my plans for National Celebrate Lacrosse Week, most either laughed it off or gave me a look that said, "Of course. Another elaborate trip from Matt Hamilton. What a surprise."

This trip, albeit correctly elaborate, has the chance to perfectly encapsulate the joy of National Celebrate Lacrosse Week, a nine-day event featuring Pick Up & Play clinics at 76 sites in 32 states. USA Lacrosse is working with our community partners to introduce the sport to than 3,700 athletes ages 6-14.
I'm headed to three clinics in three state in three days — all in the name of seeing kids from all walks of life pick up a stick.

Durant, Oklahoma
Pueblo, Colorado
Buffalo, New York
What started as an idea for a road trip expanded to three distinct locations.

In Durant, Oklahoma, I'll watch as the Choctaw Nation collaborates with the Durant Lacrosse Association to conduct a tandem lacrosse and stick ball clinic — featuring two stick-and-ball sports derived from Native tribes across North America.

In Pueblo, Colorado, I'll see a program as rich in diversity as it is in the community mentality that allowed it to grow in a non-traditional area.

In Buffalo, New York, I will ride along with a new wave of wheelchair and adaptive lacrosse athletes who represent the best of us.

National Celebrate Lacrosse Week is happening across country, so let's take this on the road.
DURANT, OKLA. - Thursday, Nov. 9, 6:30 p.m. Central
Brenner Billy walked into the gymnasium at the Boys & Girls Club of Durant with a bag on his shoulder and a smile on his face.

The program coordinator at the Choctaw Cultural Center, Billy carried with him an assortment of hickory stickball sticks — thinned at one end and bent at the top and bound by leather similar to that of a lacrosse stick. He fashioned these sticks over the course of weeks, adding the branding of his name and that of a serpent as an ode to his family to complete the job.

Although there are many stick makers across the Choctaw Nation — the third-largest Indian nation in the U.S. — Billy has risen as one of the community's most prominent. He told me about how his father, grandfather and great-great uncle were all stick makers, and that he started making sticks by hand by the time he was 12.
Durant Lacrosse Association founder Mike Delloro called Billy the Alfie Jacques of stickball.

"There are a lot of good stick makers out there, especially in Mississippi," Billy told me as he gripped one of his works. "But I'm trying to teach more people to make sticks so we can keep passing it down."

Along with the stickball materials in Billy's bag was a handcrafted lacrosse stick from legendary Akwesasne stick maker Lewis Mitchell.

"I had a friend out of Philadelphia who learned from Alfie Jacques, and he had wooden lacrosse sticks," he told me. "I'd actually sell him some of my sticks in Philadelphia, but that's as close as I got to Alfie. I used to watch his videos and it change some of the ways I made sticks."

The legendary stick maker of the Onondaga Nation, Jacques died June 13 after a nearly decade-long bout with kidney cancer and other ailments.
Billy joined several more Choctaw Nation citizens Thursday night in Durant for the combined stickball and lacrosse clinic, one of the most unique offerings of National Celebrate Lacrosse Week.

Delloro, a Texas native who has helped build the Durant Lacrosse Association over the past decade, has been active in trying to collaborate with the stickball community within the Choctaw Nation. Once separate entities, they are beginning to realize the potential of combining efforts.

Thursday's clinic, which was moved inside the Boys & Girls Club gymnasium because of rain, was a major step in continuing to embrace the joy of two sports woven into the fabric of the Native American community and the United States itself.

Wearing the royal blue Durant Lacrosse polo, Delloro led the lacrosse part of the clinic, and he never lost the smile with which he greeted me an hour before the clinic began.

"I'm so glad you could make it here," he said as he began walking me through the history of the partnership between Durant and the Choctaw Nation. "Stickball is such a huge sport to the cultural tradition of the Choctaw Nation that it realty has transcended the area."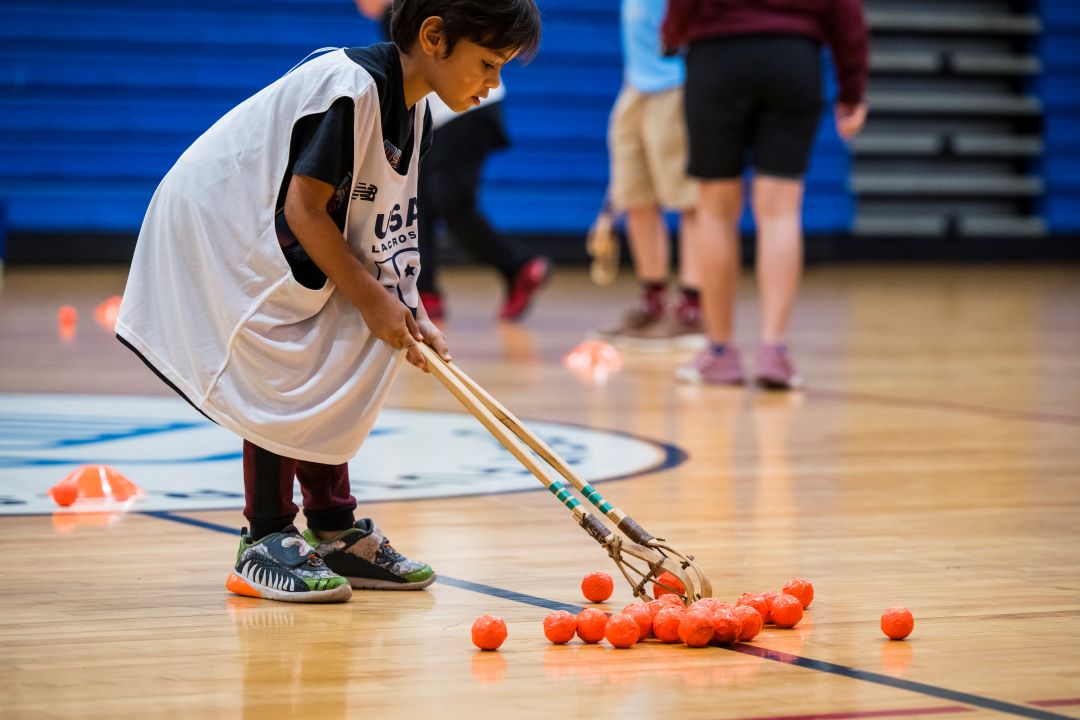 Minutes after dozens of children have checked in, Delloro begins the lacrosse portion of the clinic, introducing stick skills and walking them through a quick warm-up. With each drill, the children — many of whom had stickball experience but hadn't tried lacrosse — became more familiar with a sport that shared traits with the one they'd grown up watching. The confused faces dissolved into excitement as Delloro introduced them to team ground ball battles and shooting practice.

Then, Delloro pivoted the curriculum to Billy and his group of experienced stickball players, including 2023 Miss Choctaw Aliyah Myers, who has competed at multiple World Series of Stickball events.

Myers and Billy walked the children — and one 31-year-old USA Lacrosse employee — through the fundamentals of stickball. The sport features a pair of two-foot long sticks, one for throwing and one for scooping and cradling. Up to 30 players on each side compete on a football-sized field. The object of the game is to hurl the ball and hit a pole to score points. Records of stickball trace back to the 18th century, but the games most likely began hundreds of years earlier as an alternative to war.

I grabbed two sticks and began trying to scoop the leather ball. That's when I realized stickball is much more difficult than lacrosse. I didn't grow up playing lacrosse, but I could understand the mechanics of shooting, passing, and cradling.
Picking up a stickball stick and looking at the 10-foot pole that represents a goal if hit in open play, I was lost. There were kids under age 10 that looked graceful playing stickball. I was lucky to get the ball out of my stick heading in the direction that I intended.
The skill sets of lacrosse and stickball are similar, and the transition from the latter to the former has proven much easier for members of the Choctaw Nation. Delloro has seen more than a few players of Choctaw heritage join the Durant Lacrosse Association and succeed at a stick-and-ball game that isn't native to southeastern Oklahoma.

I stood with Delloro watching each of the children attempt to scoop up ground balls with stickball sticks like it was a game of Hungry, Hungry, Hippos. After a few minutes, a handful of children could scoop and cradle on the run.

"These kids, being able to pick up a ground ball with stickball sticks and then do it with lacrosse sticks almost immediately, it's fascinating," Delloro said as he clapped. "It's a testament to how closely related these two sports are."

"I went to a few practices and I realized, because of the hand-eye coordination shared in both sports, I picked lacrosse up quickly," Myers said. "They were like 'How'd you learn lacrosse so quickly?' I just told them that stickball helped me a lot."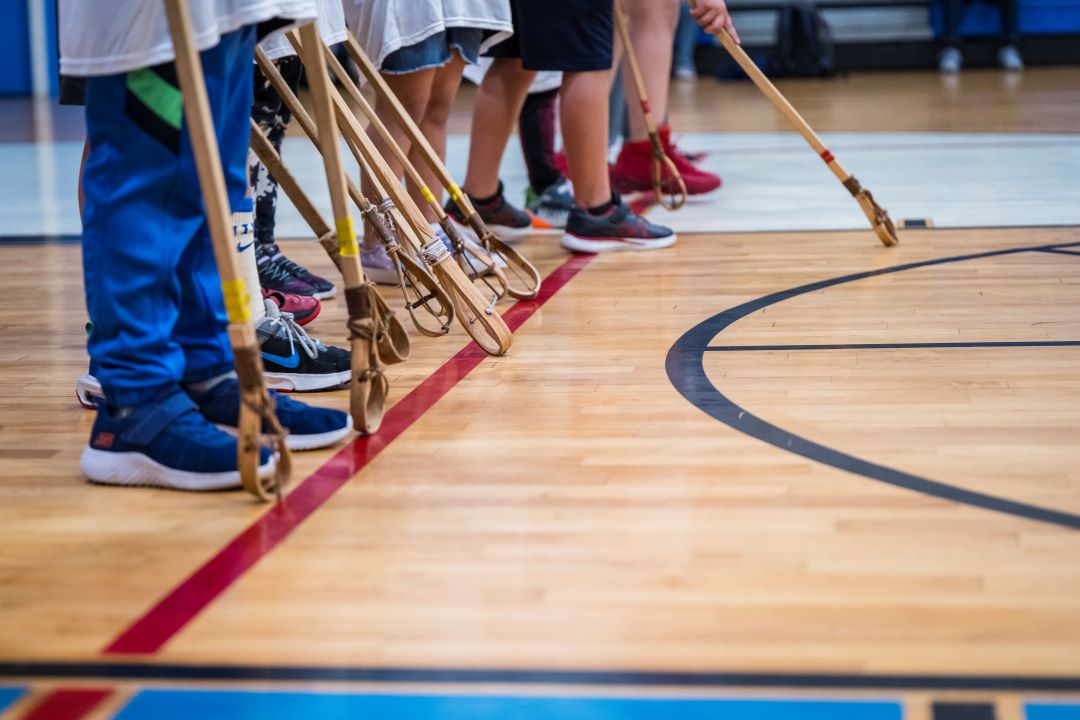 Delloro has seen firsthand the transition of youth players from stickball to lacrosse. He told me stories about how some stickball-first athletes have picked up lacrosse and earned college scholarships. It's an upward trajectory that has caught the attention of the Choctaw Nation.

"When stickball players try their hand at lacrosse, they usually excel," Myers said. "It's pretty cool. I'm in college now, but if I got a full ride for lacrosse or something, I'd be down to play."

"It's great to get our younger generation involved in lacrosse," Billy said. "It gives them more opportunities outside of our home. Stickball is native here in Choctaw Nation. It's something familiar. It's something they can go to college with. It's something they can have another passion for."

As I shook off the embarrassment of failing to throw with stickball sticks, I spoke with the Cunningham family as two brothers of Choctaw heritage, Alex and Nishoba, demonstrated their abilities in both sports. Their father, Dane, mentioned how important it was for them to play a game native to the Choctaw but also learn a related sport that traces its roots just as far back as stickball.

"What did you think of lacrosse?" I asked Alex Cunningham.

"It was easy, yet back-breaking," he told me.

I'm not sure I've heard a more unique description.

"Alright, stickball. What did you think?" I followed.

"Painful, exhausting and finger-cringing," he said.

Since Alex Cunningham was giving me one of the best interviews of my career, I figured I'd ask him how cool it was that lacrosse and stickball were working together. Again, he delivered another wonderful comparison.
"It's kind of like Marvel and DC Comics coming together," he said.
COLORADO SPRINGS, COLO. - Friday, Nov. 10, 1 p.m. Mountain
Flying from Dallas to Denver on a Friday morning? Piece of cake.

Getting through the line at Budget Rental Car in Denver? A punishment I wouldn't wish on my enemies.
I lost some time at Budget — time I was planning to use on a hike near Pike's Peak in Colorado Springs. Instead of having four hours to spare, I was working with just 90 minutes in the Olympic City.

I decided to reach out to my old USA Lacrosse colleague and friend Beth Mahr — who now works in Colorado Springs as USA Fencing's first-ever para-fencing manager.

"BETH HELLO!" I texted her at 2:30 p.m. "I'm in Colorado Springs for like 2 hours! What should I do?!"
Within five minutes, I was on the phone with Beth brainstorming how I could spend my hour-and-a-half. Then, an idea popped into her head for which I'm forever grateful.

"Why don't I take you to the U.S. Olympic & Paralympic Training Center?" she asked.

My answer was some combination of the phrases "Uhhhh yes!" or "Absolutely!"

Beth was helping host a para-fencing training camp at the training center, so she was able to give me a tour of the state-of-the-art, 35-acre campus.

As a child, I had grown up idolizing Olympic athletes like Baltimore's Michael Phelps. To walk the grounds where he once trained and worked on his craft was awe-inspiring.

As an employee at USA Lacrosse for the past seven years, I've been waiting for the sport's inclusion in the 2028 Los Angeles Olympic Games. Now that it has become a reality, touring the training center gave me a glimpse at our sport's future.

Beth walked me through the Ted Stevens Sports Services Center, which included a strength and conditioning gym that Olympic-level athletes stop by to use or national teams visit as part of training camps. She took me along a path that led to the training center cafeteria — passing photos of athletes like Jesse Owens and images depicting past Olympic Games in Los Angeles.

As I moved along the path, I felt much less like a fan of Olympic sports. I felt more like part of the family.
We walked past training quarters for USA Boxing, USA Fencing and USA Gymnastics and I peered into the 45,000-square-foot aquatic center. As I watched other Olympic athletes train for the 2024 Paris Games, the same two thoughts bounced through my mind.

I can't believe lacrosse has officially joined the club AND I cannot wait for 2028.
I had very little time to reflect on an unforgettable 90 minutes in Colorado Springs — I jumped right into my rental car and ventured south toward Pueblo. I am super grateful for Beth and her offer. I learned so much about the history of the Olympic Games and the environment that our sport has just entered.
PUEBLO, COLO. - Friday, Nov. 10, 5 p.m. Mountain
I rolled into the parking lot at Colorado State–Pueblo, a campus perched above Route 47, as the sun was setting over the town just an hour south of Colorado Springs.

Children were filtering into The ART, a 32,000-square-foot indoor training center completed in the summer of 2021, as I carried myself up the hill toward the clinic site. Before I could even open the door to the facility, I was greeted by Mark Welte, a parent-turned-coach who volunteered to coach goalies at CSU-Pueblo when the team lost its starter.

He told me about how both his son and daughter played for the Pueblo Heroes Lacrosse program, and how lacrosse-obsessed both had become.

"All my son wants to do is play lacrosse," Welte told me.

I asked him why lacrosse has been growing steadily in Pueblo since 2003. He gave me an answer that I heard more than a handful of times throughout the two-hour clinic.

"We're a little big town," he said. "We are a community. Everyone helps each other. We've all chipped in to help build this program. I'm so glad you're here to see it."

I shook hands with Welte and walked into The ART. Within seconds, Rochelle Archuleta, the co-director of Pueblo Heroes Lacrosse, stopped check-in for the clinic to give me a hug and welcome me to Pueblo.
"Oh my gosh! Hi!" she said as I approached her. "I feel like I already know you."

I had spoken to Archuleta earlier this week about the essence of Pueblo, and why she's confident that if lacrosse can be introduced to children at an early age, it could skyrocket.

"It's just a family atmosphere that sets us apart from Colorado Springs and Denver," she said. "We're considered a major market, but it doesn't feel that way. Everyone knows each other and wants to give back. It's sharing our knowledge and love for the game."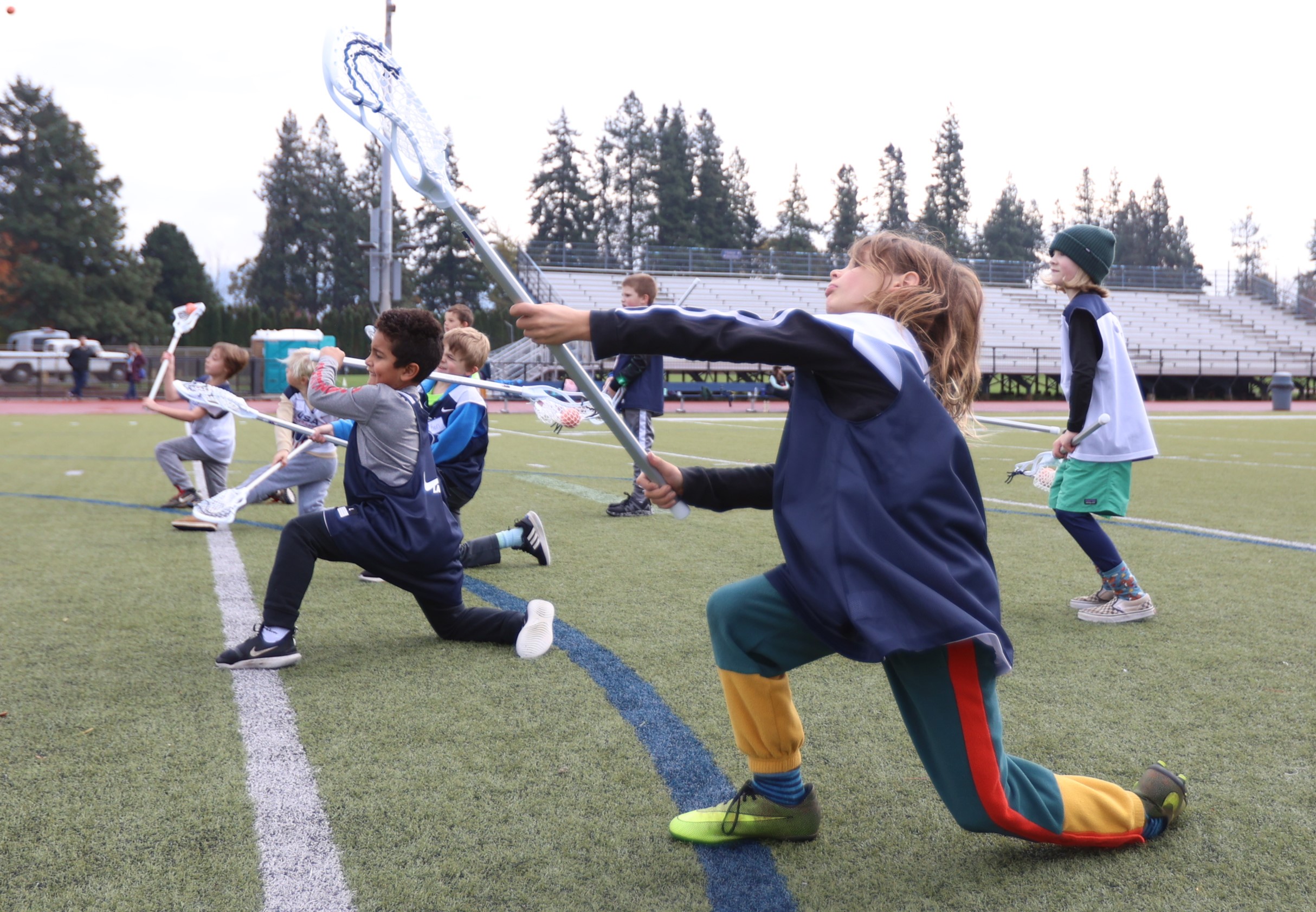 In Pueblo, the lacrosse movement has been cyclical and relied on the strength of the community. At the Pick Up & Play clinic were children picking up a stick for the first time, high school coaches who had learned the game through Pueblo Heroes, athletes from both the men's and women's CSU-Pueblo lacrosse teams and parents who had played lacrosse decades ago watching their children experience the game for the first time.

More than 30 children took part in the clinic, run by the CSU-Pueblo athletes, which became the talk of the town — one built around the confluence of the Arkansas River and Fountain Creek and a steel mill that made Pueblo one of the largest steel-producing cities in America. Pueblo is the ninth-largest city in Colorado, with more than 110,000 people calling it home.

The Pueblo community features plenty of different cultures coexisting and contributing to the whole. At one point, there were 40 different languages spoken at the steel mill and 24 different languages represented in newspapers across town. Still, Pueblo remained what police deputy chief Jim Martin says is a "blue-collar town."

In many ways, Pueblo served as a prime location for lacrosse to take off. Martin made the trip to The ART in uniform, hoping to share his lacrosse story with me and he offered a better reason than I could try to explain.

"Lacrosse is the epitome of what a sport in Pueblo should be," he told me. "It's a very blue-collar game. It builds teamwork and leadership. The kids have such a passion for this sport because it really draws you in. It drew me in and I never played. Watching how it affects our community has been such a positive and I can't wait to see this thing continue to grow."

Standing next to Martin was Bryan Vigil, part of the initial group of six players with which his father, Bob, launched the program in 2003. Vigil served as a coach with Pueblo Heroes, and ran the boys' Pueblo West High School program until this past year.

"We played with milk crates and just started passing around," Vigil told me as we reminisced about the early days of lacrosse in Pueblo. "We didn't know what we were doing. We just made it up on the spot. Cars started pulling over to ask what we were doing and why we were doing it. After about five or 10 cars stopped, we said, 'I think we're onto something.'"

Now 20 years after he first picked up a stick, Vigil held his daughter, Natalie, while he watched his son, Brayden, take part in the clinic. It was hard for him not to think of his father, who passed away in 2020.
What started as a vision that Bob Vigil had for lacrosse has turned into a blossoming program hoping to be an example for cities across Colorado.

"He loved it and he did it year-round, every single day," Vigil said. "This was his love and his passion. This was his baby. To see this and everyone coming out to try it, it would mean everything to him."

After co-director David Krenz addressed the group of children and coaches from CSU-Pueblo and Pueblo West, they broke out into drills intended to teach first-timers how to scoop, cradle and shoot. I watched as former members of the Pueblo Heroes worked hand-in-hand with the next generation. Even those who weren't from Pueblo still wanted to contribute to the growing movement.

Before the clinic began, CSU-Pueblo women's lacrosse player Sam Schmidt, a Colorado native, took time to give one-on-one lessons to 4-year-old Joy (Sissy) Bradburn. She was trying the sport for the first time while her brother, LJ, a member of Pueblo Heroes, pranced around rocking a fantastic mullet. (He is also a hockey player.)

"Try it. Ready?" Schmidt said to Sissy Bradburn as she cocked back and got ready to throw her first pass.
Bradburn threw it right into Schmidt's hands.

"That was so good," Schmidt said as Bradburn began jumping up and down on the turf.

LJ and Sissy Bradburn are just two children that picked up a stick in Pueblo, but they represent much more. They are the next generation of lacrosse players in a growing movement, both in Pueblo and across the country.

In true Pueblo fashion, the community helped introduce the Bradburn family to the game.

"I didn't even know what lacrosse was," said John Bradburn, their father. "Cassie Krenz (David's wife) was our veterinarian. She said, 'If LJ is playing hockey, he needs to try lacrosse.' So, we took him to try lacrosse. It's just about breaking down that wall of trying a new sport. It just takes an open mind to get out here and try it."
BUFFALO, N.Y. - Saturday, Nov. 11, 4:50 p.m. Eastern
My travel consisted of a flight from Denver to Baltimore then to Rochester. I had 90 minutes to get off the plane, pick up a rental car and drive to the Pick Up & Play clinic in the Greater Buffalo area.

I parked at St. Mark's High School and wandered the halls until I found my way into the gymnasium, where I found Norm Page, the founder of Greater Buffalo Adaptive Sports.

"Matt! You made it!" he said as he applied air to the tires of a wheelchair equipped for adaptive sports. "This is really going to be fun. We had adaptive athletes, wheelchair athletes and some able-bodied kids who just wanted to play lacrosse."

Page, the father of Paralympic sled hockey gold medalist Adam Page, continued pumping up the tires on the blue, Quickie wheelchair intended for 10-year-old Aria Scheffert. He had met Scheffert and her family at Pet Supplies Plus, where her father, Eric, was grabbing food for their new dog. Page saw Scheffert, who became wheelchair dependent after complications following surgery in 2021, and felt the urge to approach her about lacrosse.

"I put some stuff in the car and then ran back in," Page remembered. "Thank God I decided to go back in. They were looking for something to do and I let her know about what we were doing."

Interactions like the one the Schefferts had at Pet Supplies Plus are nothing new in the Greater Buffalo Area. Page had been building an outlet for children with disabilities to play sports since his son, Adam, was born in 1992. Adam Page was born with spina bifida, and first made a career out of sled hockey — a sport that allowed him to win gold at the 2010 Paralympic Games. However, when the opportunity to play for the Buffalo Bandits wheelchair lacrosse team came about, Page was quick to add another sport to his repertoire.

Thus, Norm Page followed suit, adding lacrosse to the GBAS curriculum that already included sled hockey, football, basketball, and other sports. In the years since, he's spent most of his time recruiting players and building a foundation for one of the nation's most successful wheelchair lacrosse programs.

Page has worked with coach Rich Randall and the Buffalo Bandits wheelchair team to help organize clinics for children with disabilities across the area. He plans to expand to Rochester next year.

"He's really supportive. He never says no to anything," Adam Page said of his father. "Anything that I wanted to do or we wanted to do, he's always tried to do. He's selfless."

"This is just the beginning," Norm Page said of Saturday's clinic, as he screwed in wheels for another chair. "It's just about helping make this affordable for our community. We want them to know you don't have to sit on the sidelines. You can come out and participate."

I'm so grateful I got to see Page's vision — shared by Randall, who serves as a player-coach for the Bandits' wheelchair team. The joy of lacrosse lives on through those who showed up for the Pick Up & Play clinic Saturday night. Within the first 15 minutes, I met three amazing young athletes that Page recruited to play lacrosse.

Randall walked me over to meet Joe Scherrer, a 28-year-old lacrosse player who has aplasia on the right side of his body -- a form of cerebral palsy he developed at six weeks old due to meningitis that attacked his brain. He has a delay in his speech and ability to process his surroundings.

When Scherrer walked onto the court at St. Mary's High School, none of that mattered. He gripped his USA Lacrosse-branded STX stick and trotted toward the huddle of children waiting to learn the game of lacrosse for the first time. He has more than five years of experience with the Bandits' adaptive program, so he needed little introduction to the game.

He just wanted to play lacrosse again.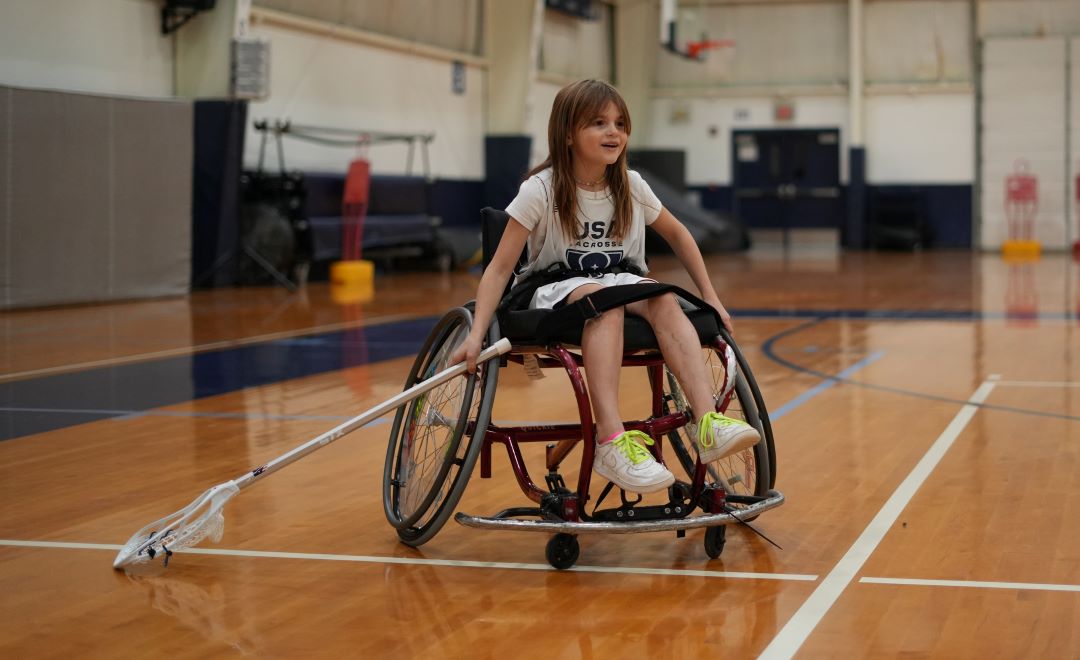 "When I saw the email go out, I figured it would be for first-timers and they'd teach skills," said Diane Scherrer, his mother. "I didn't put it on the calendar and figured he'd forget. He walked in the door today and said, 'Are we going to lacrosse?'"

Diane Scherrer has dedicated her life to making sure her son has the opportunity to succeed in whichever sport he chooses. Lucky for us, Joe Scherrer chose lacrosse. Watching him dodge, cradle and pass during the scrimmage at the end of the clinic, there was little evidence of the battle that he fought to get to where he is today.

"The more we get the word out about Joe and about kids with special needs, the better," Diane Scherrer said. "We're part of this whole community. People will forever tell me what he can't be part of. He can't be part of this. He can't join this. It's nice to see when there's something he can do, and he excels at it."

I asked Joe Scherrer about his favorite part of lacrosse.

"Everybody getting together," he replied.

Just feet away from where Joe Scherrer reconnected with his friends, a new wheelchair lacrosse player was picking up a stick for the first time. Caitlyn Schumacher, 8, sat in her chair, tossing a ball back and forth with Adam Page with a beaming smile on her face.

As they connected pass after pass, groups of clinic participants and organizers formed a crowd around Schumacher and Page.

"Three! Four! Five!" shouted the crowd, led by USA Lacrosse Western New York chapter president Ed Greenway.

Schumacher is no stranger to wheelchair sports. She's played football, basketball, and tennis through GBAS. She was born with spina bifida and was an active child. Olya and Brad Schumacher thought lacrosse would be a great fit after connecting with Page.

"She's kind of fearless," Brad Schumacher said of his daughter. "Whether she's on the football field with 30- or 40-year-old guys that are three times her size, or playing basketball with 16- or 17-year-old kids, she's in there just going for it. On the drive here, she was afraid of getting hit in the face with the ball. But now she's just going at it."

Schumacher spent most of her time pushing her chair around Adam Page, whom she met through wheelchair football. It's a connection that allowed her to see someone just like herself excelling at a sport she had never experienced.

Adam Page, who has retired from the U.S. sled hockey program and dedicated his time to mentoring the next generation of wheelchair athletes, was floored by how well Schumacher adapted to the new sport.

"For Caitlyn to be out here picking up a stick for the first time, that was awesome," Adam Page said.

Riding along with Schumacher throughout the clinic was her new friend Scheffert, who was also playing lacrosse for the first time. Her father, Eric, had spent the better part of the last two years looking for opportunities to get Aria involved in adaptive sports.

Despite his efforts, Aria Scheffert hadn't played a wheelchair sport until Saturday night.

"We tried different agencies and every time we asked, they'd say, 'Oh, we'll find something for you,' and we'd never hear back," Eric Scheffert said. "We happened to run into Norm and watched a few YouTube videos of Adam and I said, 'Hey, Saturday night let's go try it out.'"

Arian Scheffert pushed her way to her father toward the end of Saturday's clinic while I was talking to him about her story.

"You're typically a shy kid, and you came out of your bubble tonight," Eric Scheffert told his daughter. "Looked like you had a blast with the other kids."

"Thanks. I scored a goal," she replied.

These are just three stories of children whose trajectories led them to the clinic on Saturday. As powerful as it was for Joe Scherrer, Caitlyn Schumacher and Aria Scheffert, it was just as impactful for those who got to watch them fall in love with lacrosse.

Randall, who has played wheelchair lacrosse for the better part of eight years, has seen the positive impact the sport can have on his teammates and the community that has supported them. He's taken the Bandits program to local colleges in Western New York, hoping that able-bodied athletes may want to get involved.

"If just one of those guys, just one, has a positive experience with us, then we've done our job," he said. "It's a ripple effect. That's what I'm hoping for here. Maybe next time, some of these guys will volunteer for the next tournament and work the scoreboard or something like that."

Greenway, who launched the Williamsville lacrosse program 38 years ago and remains a major figure in the Buffalo lacrosse scene, coached wheelchair and adaptive lacrosse for the first time. From the introductory huddle to the closing ceremonies, he helped support the children and provided them with advice on how to improve their game. Whether coaching able-bodied athletes or not, Greenway wanted to inspire the next generation.

"To see the glow on [Caitlyn's] eye, just bringing enthusiasm to her and then the success she had throwing, it was incredible," he said. "You feed off that. I love teaching the game. This stick will take you many places. This is just the next chapter. I'm sure it will be something I'll grow with."

Then he looked at me and pointed in the direction of a handful of extra chairs sitting in the corner of the gym near the bleachers.

"I'm hooked," he said. "I'll be even more hooked when I get one of these."

Greenway and I walked over to the chairs, and Norm Page helped us get strapped in. I had been waiting the entire trip for this — my first wheelchair lacrosse experience. I've done countless interviews with wheelchair athletes across the country and I know how much work they put into their craft.

Norm Page adjusted the straps and told me where to place my feet, and then gave me a pep talk before pushing me onto the court.

"You're in!" he yelled at me as I tried to push myself forward.

Adam Page was there to help. He showed me where to place my index, middle and ring fingers (pinned against the handle of the chair) and my thumb (on top of the handle) so that I could hold the lacrosse stick and push up and down the court.

After about 10 minutes, my forearms and shoulders were feeling it. It might be because I have no upper body strength, but I'd like to believe it's because wheelchair lacrosse is a demanding sport.

"How's my form, Norm?" I asked as I pushed toward him.

"You're improving," Norm Page said.

I stepped out of the chair and began saying my goodbyes to the crew that helped set up the clinic. As I turned toward the double doors that led out of the gym, I heard the sound of the children cheering on a goal.

I cocked my head to the left and saw Caitlyn Schumacher and Aria Scheffert passing the ball back and forth, some 15 minutes after the clinic had ended. Both took turns shooting at the goal and putting their arms in the air to celebrate.

I asked Schumacher if she thinks she'll play lacrosse with her new friend in the future.

"Yeah and basketball," she told me. "I play basketball and I told her about it. She's going to come play the next time."

The lacrosse community gained two more passionate players. Welcome to the family, Caitlyn and Aria.
What was reinforced to me Saturday night in Buffalo was the theme I had running in my head all week. It's not just the curriculum, the drills or the insight from coaches that will drive this sport forward.

Lacrosse has and will always be driven by the people, the ones who share a passion for a game older than any in North America and the ones who pick up a stick and allow the power of lacrosse to grow within them.

To the people I met on this trip, thank you. Working in lacrosse can sometimes be a grind, but when I'm out in the field and interacting with people as passionate about this sport as you are, it reignites the passion in me.