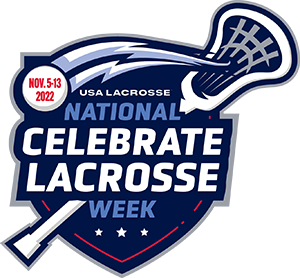 USA Lacrosse is excited to celebrate the second annual National Celebrate Lacrosse Week from November 5-13, 2022.
A key component of National Celebrate Lacrosse Week is free Pick Up & Play clinics that will give youth players a chance to try out the sport and connect with local lacrosse organizations to provide opportunities to further their exploration of the sport.
USA Lacrosse had great success conducting 39 of these clinics around the country last year and we're looking to expand the footprint around the country even further this year.
USA Lacrosse supplies the curriculum, sticks (for new hosts), balls and pinnies, hosts the registration process, provides clinic event insurance and will offer tools to help hosts market the event to their local community.
If you are representing one of those 39 organizations that held a Pick Up & Play clinic last year, please choose the Returning Host Application Form. If your organization is interested in getting involved this year, please select the New Host Application Form. Applications are due by Friday, July 15.
We look forward to working with hosts to grow this great game.
The deadline for applications has passed.